Print Friendly
Historic Resource Study, Crater Lake National Park, Oregon, 1984
 V. Geological and Biological Information on Crater Lake Area
E. Points of Geological Interest in Crater Lake National Park
   17. Phantom Ship
Scanning the blue surface, one's eye is caught by an interesting sail-like rock rising from the waters on the far right close to the foot of Dutton Cliff. This is the Phantom Ship. Seen two miles away in certain lights the illusion is excellent. The masts seem to tilt rakishly and the sails shine in the sun. There are times when the Phantom Ship suddenly disappears, and times again when it as suddenly appears. . . . Hence its name and mysterious repute. [20]
A rugged island rising dramatically 175 feet above the lake surface, the "ship" is formed of molten rock and volcanic ash. The "sails" are remnants of a volcanic dike from a smaller mountain pre-dating Mazama, making this the oldest lava exposed in the caldera.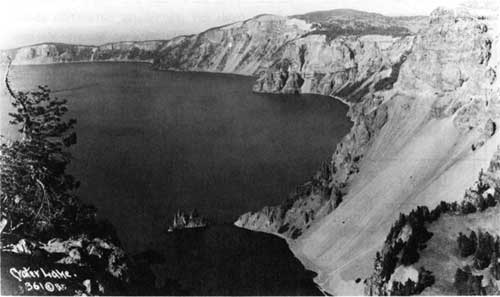 Illustration 4. Phantom Ship. Courtesy Oregon Historical Society.