Print Friendly
Historic Resource Study, Crater Lake National Park, Oregon, 1984
VI. Steps Leading Toward Establishment of Crater Lake National Park
B. Crater Lake Meets the Camera
Without question, Crater Lake would have risen to prominence much earlier if sketches of it had been made, or pictures taken, and circulated among the general public. By the late 1860s and early 1870s western geological wonders were beginning to intrigue the American people. Graphic accounts of adventures in Yellowstone and other wilderness areas that appeared in such magazines as National Intelligencer and Scribner's were widely perused. Popular also were congressional documents containing beautiful illustrations by such great artists as John Mix Stanley, who accompanied the 1853 Fremont expedition and made field sketches throughout northern Oregon. The illustrations of William Henry Jackson–who accompanied the Hayden Survey of 1871 to authenticate the existence of geysers in present Yellowstone National Park–that accompanied the final survey report were a major element in the argument for preservation of the area. They significantly helped motivate Congress to pass a bill establishing this as a national park, our first, thus setting a precedent for preservation of our national wonders. [2]
Unfortunately southern Oregon was as yet too unfamiliar, and her resources too unexplored, to elicit much interest among the general public or the federal government. Despite the fact that it was not a major goal of official expeditions to the West, Crater Lake had become somewhat of a local tourist attraction The improved military road between Jacksonville and Fort Klamath, connecting with both the old Southern Emigrant Route to the south and the Oregon-California Road to the west, passed within a few miles of the lake, providing relatively easy access to it. Added incentive for a trip to the lake was the opportunity to camp out at Huckleberry Mountain, in the present Rogue River National Forest just west of Crater Lake. Every fall for years this was one of the ideal camping spots for hundreds of Rogue River valley and Klamath County settlers and for Indians from the Klamath Reservation. A camp-city, often numbering more than 100 people, was organized each year and presided over by a mayor. A side trip to Crater Lake was a pleasant diversion: [3]
Soon it became a part of a summer camping trip to include a visit to the lake with the annual journey to Huckleberry Mountain. The people would drive to within a short distance of the lake, leaving the present road a few hundred feet north of the present Annie Springs cabin and drive about two miles to the old camping grounds. [4]
It was often possible to find up to 1,000 persons camped here, who later made the trip to the rim at their leisure on horseback, by foot, or in a light wagon.
Although M.W. Gorman states that the Sutton party took a camera with them on their 1869 visit and "were the first to secure pictures of the Lake and of the most picturesque pieces of scenery on the way," [5] credit for this particular deed has generally been accorded to Peter Britt, a Swiss-born emigrant who became southern Oregon's most distinguished pioneer artist and photographer. Arriving in the United States in his mid-twenties, Britt studied the new art of daguerreotype photography for five years under the renowned frontier photographer J.H. Fitzgibbon. From him Britt bought his first camera, a small wooden daguerreotype box, which he transported carefully to Oregon in 1852 along with several hundred pounds of equipment, including a Voigtlander lens No. 2115 and a stock of glass plates and chemicals.
Finally reaching the gold-mining town of Jacksonville in November, Britt enthusiastically joined in the search for gold. After several fruitless weeks he determined this decision had been a mistake, and, although he had a more successful stint as a packtrain operator, he ultimately built a small cabin and returned to his first loves–photography and portraiture. Business flourished as both successful miners and n'er-do-wells flocked to have themselves immortalized for the folks back home. By the time of the Civil War, Britt had a family, a prosperous business, and a large home with an elaborate studio.
Sometime after the war ended, Britt bought the large wet plate camera that, in 1874, went with him and a small party of friends to Crater Lake, still an unknown sight to most people. In addition he packed in his wagon a stereoscope camera and two large boxes, weighing more than 100 pounds each, containing glass plates, plate holders, chemicals, trays, and other related equipment necessary for coating the plates on the spot and then immediately developing them after exposure. Despite overcast skies and intermittent rainfall, Britt was able to take several pictures of the lake and vicinity. Although this historic event did not receive much attention at the time, it was these black-and-white photographs that would eventually help convince scientists and a budding conservation movement that steps should be taken to record and preserve the lake's significant features. [6]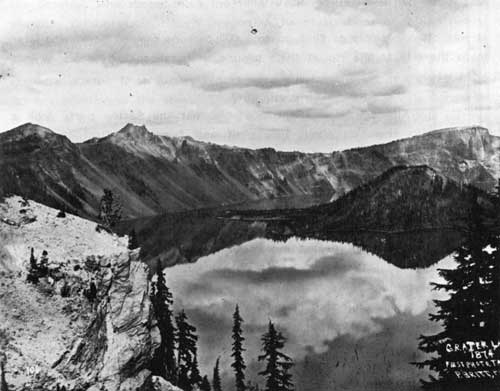 Illustration 5. First photograph of Crater Lake. Taken by Peter Britt, 1874. Courtesy Southern Oregon Historical Society, Jacksonville.