Print Friendly
Historic Resource Study, Crater Lake National Park, Oregon, 1984
X. Construction of Government Buildings and Landscaping in Crater Lake National Park
E. Community House (Bldg. #116) Erected and Government Headquarters Enlarged
During the 1924 season a community house was built on a site at the rim near Crater Lake Lodge. Boasting a large rustic fireplace, it was designed to house audiences attending nightly lectures and entertainments given throughout the tourist season:
A Victrola was provided for the community house by the Medford, Oregon, "Craters," a booster organization dedicated to the advertising and development of Crater Lake National Park. Colonel Thompson's [C. G. Thomson] now famous "Kentucky Rangers" quartet added much to the pleasure of the informal gatherings which took place each evening. . . . It should be known that the appropriation which built the community house was originally intended by the government to cover the erection of a modern home for the park superintendent. The diverting of this appropriation to provide a community house is typical of Colonel Thompson s whole-hearted and unselfish interest in the development of the park. [18]
The building was cheaply constructed and of a style inharmonious to surrounding buildings. It also soon proved inadequate in size. The structure was ultimately used as headquarters for the park naturalist and as a museum in the daytime; at night the ranger service conducted a program for tourists that included lectures, music, and dancing. [19]
Also that year the log cabin (former army engineer bunkhouse) used as the office of the superintendent and as official headquarters at Government Camp was enlarged because of growing demands on registration and recording facilities. All buildings in this camp group were of log cabin construction with sharply peaked roofs and were able to withstand heavy snowfalls and extreme winter winds. Also mentioned as being located in this area was "Chef Van Camp's Cook House." [20]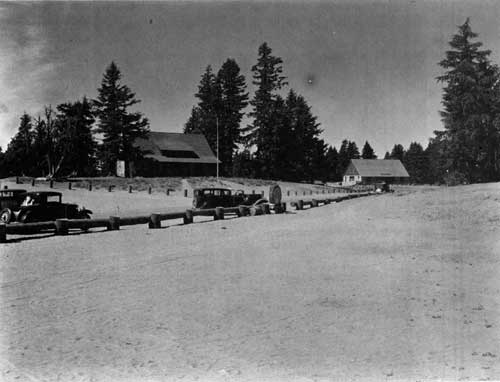 Illustration 32. Community house and cafeteria, Rim Village. Courtesy Crater Lake National Park. No date, but before cafeteria addition of 1956.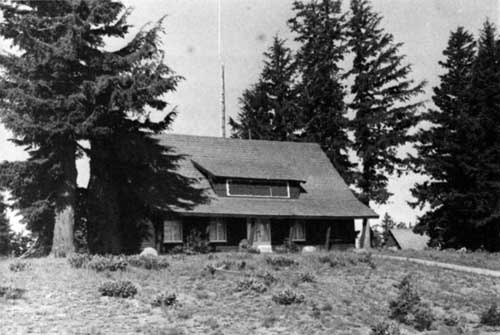 Illustration 33. Rim Center (former community house), 1981. Photo by David Arbogast, NPS, DSC.