Print Friendly
Historic Resource Study, Crater Lake National Park, Oregon, 1984
VIII. Roads of Crater Lake National Park
A. Approaches to the Park
In 1865 Fort Klamath soldiers constructed a road over the mountains between Jacksonville and Fort Klamath, crossing them about three miles south of Crater Lake. Eventually a few travelers began visiting the lake via this route, either on foot, by horseback, or by wagon and stagecoach. In 1898 two gentlemen from Portland even reached the park by bicycle and got within three miles of the rim–a transportation "first." [1]
Three main wagon routes could be used to reach Crater Lake from the nearest population centers and rail points. Probably the most widely used, and definitely the shortest, was the "Rogue River Road," which began either at Gold Hill or at the Southern Pacific Railroad station near Medford and led through fruit-farming country, into the foothills, and up the valley of the Rogue River to the turnoff to Crater Lake. The distance of eighty-five miles could be covered in three days of easy travel, with accommodations available along the way at Trail and at Prospect, where a Mrs. Grieves presided over the Prospect Hotel. "This road makes a gradual ascent, with few hard grades; but the last day is heavy with sand. It has been traversed by bicycles, but it can not be recommended to wheelmen. The road abounds in features of interest." [2]
Another route available was referred to as "Dead Indian Road," which left the railroad at Ashland and passed by the Lake of the Woods and Pelican Bay on Klamath Lake in its eastward course. A slightly longer trip of four days was necessary to cover these ninety-seven miles. No hotel accommodations were offered along the way, but three ranches could be used as campsites. "This road, like the one described above, can not be recommended to wheelmen. It crosses one range of mountains, and is often rocky; while the last fifteen miles are through deep sand." [3] From Pelican Bay the road continued on to within a mile or two of abandoned Fort Klamath, where it picked up Annie Creek. For several miles the road followed along the edge of Annie Creek Canyon, finally joining the Medford road just west of the Cascade divide about three miles from the lake rim.
A third and more comfortable road, but a much longer one, left the Southern Pacific Railroad at Ager, California, and ascended through Klamath Falls to Fort Klamath where it joined Dead Indian Road. Its 116 miles were negotiable by wheeled conveyances and were traveled daily by a stage between Ager and Klamath Falls. [4] Another route led from Ashland to the lake over the Klamath Falls road, a distance of about 125 miles. [5]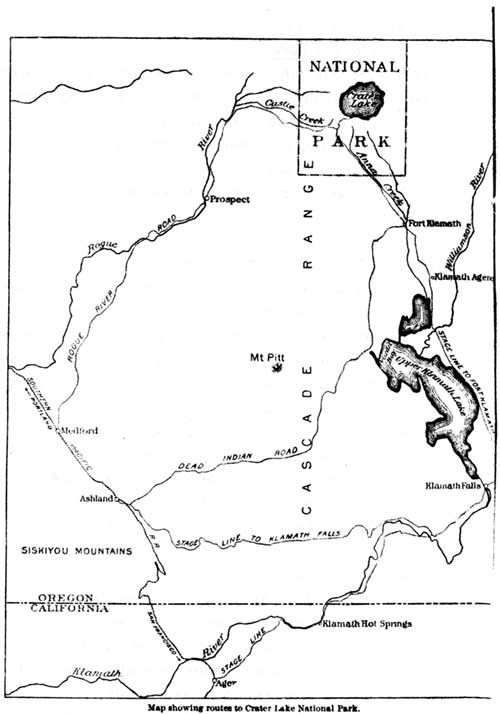 Illustration 13. "Map showing routes to Crater Lake National Park." From National Parks, Reports and Publications (1903), Bancroft Library, University of California, Berkeley, p. 8.