Print Friendly
Historic Resource Study, Crater Lake National Park, Oregon, 1984
X. Construction of Government Buildings and Landscaping in Crater Lake National Park
F. Building Inventory of 1926
By 1926 public buildings at the park consisted of,
at Annie Spring,

two old houses
one old ranger station one bunkhouse
one warehouse one barn
two old one-room shacks
two modern toilets in the adjacent campground

at Government Camp,

one Log cabin
one three-story bunkhouse and kitchen
one nine by eleven-foot one-room log cabin
one remodeled log cabin used as an administration building
one tumbled-down warehouse
one small powder house
four open latrines

at Lost Creek,

one combination frame bunkhouse and one one-room log shack (shelter cabin) built in 1914 or 1915

at Devils Backbone,

one combination frame bunkhouse
one board shack used as a temporary storehouse

at Wineglass,

one combination bunkhouse

at the east entrance (Sand Creek),

one two-room log cabin ranger station built in 1915 two open latrines built in 1917

at the west entrance (Medford Road),

one two-room log cabin ranger station and two open latrines built in 1917

at the south entrance (Fort Klamath Road),

one old frame cabin one checking station two Latrines

at the rim auto camp,

two comfort stations two modern toilets
one Community House
two sheds housing four redwood water tanks, built in 1918 [21]
Heretofore, the park had been rigidly limited to two or three minor structural improvements annually, with appropriations lagging far behind the increase in travel and functions. Structures were nearly all ramshackle buildings hastily erected years before to meet the temporary needs of road gangs engaged in road construction from 1913 to 1917. The buildings had long outlived their usefulness and needed to be replaced with other structures in keeping with new requirements and harmonious design. The year 1926 found park facilities, as a whole, behind demands in every department. [22]
In 1926 the first building of the utility group planned for headquarters at Government Camp was built–a small warehouse of rough stone walls with a second story of rough boards, battened, and with a shake roof. Also a fire lookout station was built on Mount Scott following U.S. Forest Service plans. It was manned all summer, the lookout's wages being paid jointly by the Forest Service and the Indian Service. The park furnished all equipment and supplies. The Kiser Studio, holding the photographic franchise in the park, added a small wing to provide a developing and printing service. Standard Oil operated a service station at Annie Spring. [23]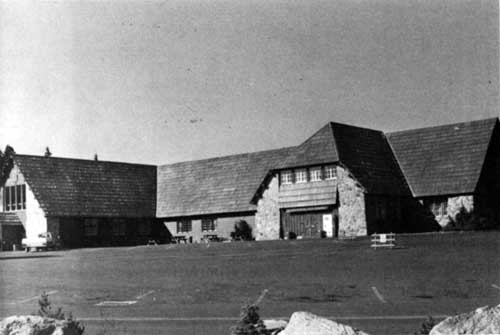 Illustration 34. Cafeteria, Rim Village, 1981. A new addition to the cafeteria was finished about 1956 and used as a ski warming hut during the winter. Other extensions were added in the 1970s Photo by David Arbogast, NPS, DSC.