Print Friendly
Historic Resource Study, Crater Lake National Park, Oregon, 1984
XI. Summary of Important Structures
C. Structures Eligible for the National Register
   1. Headquarters Area
Eventual year-round use of Crater Lake National Park immediately made obsolete not only the seasonal administrative, protective, and maintenance programs of the park, but also its employees' quarters and its shops and service facilities that had originally been planned only for summer occupancy. These were mostly simple frame structures, log cabins, or tents that became totally unsatisfactory in terms of design, construction, and location. After careful consideration of a proper architectural theme for the park, it was decided in the late 1920s that new buildings would be designed in the rustic style characteristic of early park development from about 1920 up to World War II and mostly the result of Civilian Conservation Corps and Works Progress Administration programs of the mid-1930s.
The administrative complex at Crater Lake shows that serious thought was given, in terms of design and placement of structures, to the needs of the park and how best they might be achieved within a harmonious setting. The administration building represents typical accommodations for administrative activities; the Ranger Dorm typifies the method of housing groups of unmarried employees, especially seasonal ones, in an isolated large park; and the layout of housing for park personnel shows a satisfying solution to location of buildings so that they are convenient to, but do not intrude on, intensively used areas. Housing park staff and functions in one place leaves most of the park uncluttered and enhances visitor enjoyment.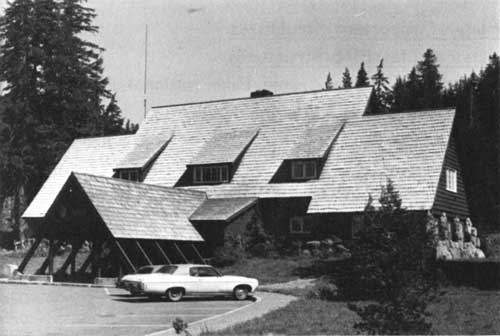 Illustration 58. Administration building, 1981. Photo by David Arbogast, NPS, DSC.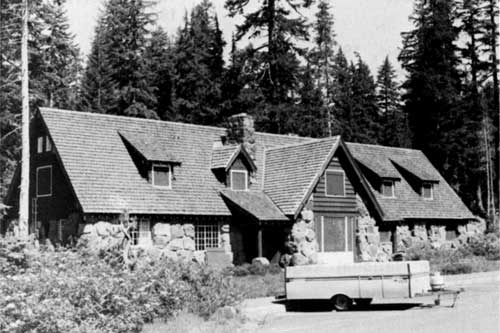 Illustration 59. Ranger dormitory, 1981. Photo by David Arbogast, NPS, DSC.