Print Friendly
Historic Resource Study, Crater Lake National Park, Oregon, 1984
X. Construction of Government Buildings and Landscaping in Crater Lake National Park
G. Western Field Office of National Park Service Implements Rustic Architecture Program
Thomas C. Vint joined the NPS Landscape Engineering Division in Los Angeles in 1922 as a draftsman; by 1926 he was in charge of its daily operations. A year later the division was moved to San Francisco where it joined with the NPS Civil Engineering Division and the Bureau of Public Roads in a joint Western Field Office. This move was designed to facilitate communications between the various sections of the development staff in preparation for a period of unparalleled development in the national parks.
In 1927 an employee cabin and a comfort station were finished at Government Camp; a superintendent's stucco residence at Medford, the park's winter headquarters; a stone comfort station at the foot of the new rim trail, and a convertible barn/storage shed at park headquarters. All new park structures were built of stone walls with a rustic superstructure. Added by the concessionaire was a new stone-and-wood rustic-style Standard Oil Company service station at the junction of the rim and main roads. At the request of the National Park Service, the company razed the station at Annie Spring. A heavy-duty pumping plant (Bldg. #186), consisting of a powerful 40 h.p. diesel engine and a duplex pump guaranteed to lift 150 gallons per minute, was installed to remedy the critical water situation at Rim Village. The plant was housed in an appropriate building with stone walls and a rustic superstructure. A 24,000-gallon covered concrete reservoir was constructed underground alongside the pump house. [24]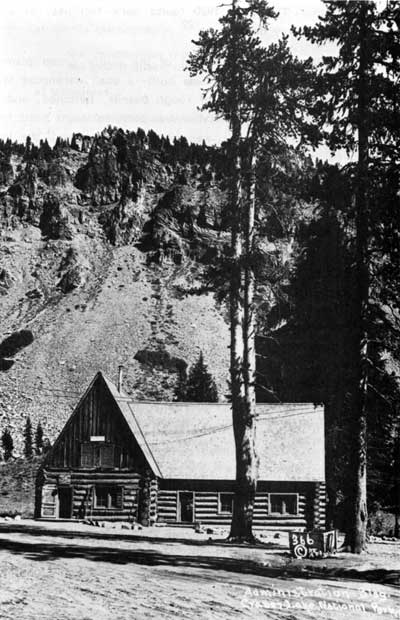 Illustration 35. Headquarters at Government Camp, post-1925. Removed in 1934. Courtesy Southern Oregon Historical Society.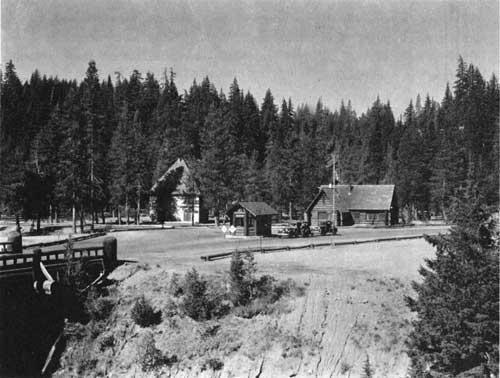 Illustration 36. Annie Spring checking station, showing superintendent's residence in woods, checking station, and ranger's quarters, n.d. Courtesy Crater Lake National Park.