Print Friendly
Historic Resource Study, Crater Lake National Park, Oregon, 1984
X. Construction of Government Buildings and Landscaping in Crater Lake National Park
H. Construction Plans for 1928
Several structures had been planned for construction in fiscal year 1928. These included:
1. Superintendent's Residence: a six-room bungalow, containing living room, dining room, kitchen, three bedrooms, bath, with a shed to house a heating plant and fuel. It was to be of frame and have an attached two-car garage;

2. Employee's Cabin: a simple 28 x 30 rustic frame structure with batten sidings and shakes, with a living room, kitchen, bedroom, and shower bath. This might be the two-story log employee's residence used as a first aid and contact station at Annie Spring built in 1928, remodeled in 1931-32, and finally razed about 1960.

3. Medford Warehouse: a 20 x 50-foot structure with 8-inch concrete walls, concrete floor, and asphalt-gravel roof.

4. Barn at Government Camp: first story of native stone with rustic superstructure, batten sidings, dimensions 24 x 40 feet.

5. Comfort Station at restroom in center for native stone with heavy Lake: 12 x 32-foot structure with common general use in bad weather. To be of log roof covered with shakes.

6. Dam, Pumphouse, and Pumping Equipment for Rim: masonry dam 28 feet wide and 16 feet high, pumphouse 18 x 30 feet of native stone with concrete floor and shake roof. The pumphouse was located between headquarters and the rim.

7. Toilets and Bath at Government Camp: a 12 x 20-foot structure with concrete floor, rock walls, and shake roof.

8. Septic Tank at Government Camp: large tank designed to take care of headquarters sewage disposal for twenty years, 10 x 12 x 24 feet. [25]
In 1928 physical improvements at Crater Lake consisted of,
at Annie Spring, several frame structures,

one superintendent's house
one ranger station
one bunkhouse used as residence
one warehouse
one barn
two toilets in campground
two small shacks

at park headquarters,

one small one-room Log cabin
one 2-1/2-story log cabin used as kitchen mess hall
bunkhouse for forty men
one log cabin remodeled and used as administration building
one warehouse
one barn
log cabin
three latrines
one comfort station
one employee cabin

at Lost Creek,

one combination mess hall and bunkhouse for fifteen men
one log shack used as storehouse
two latrines

at Wineglass,

one combination bunkhouse
one decrepit twelve by twenty-foot storehouse

at Devils Backbone,

one combination bunkhouse
one old frame storehouse ten by sixteen feet

at east entrance,

one two-room log cabin
two latrines

at south entrance,

one two-room log cabin
two Latrines

at west entrance,

one two-room log cabin
two latrines

at rim auto campground,

one small Community House, already inadequate
two toilets
two comfort stations
two sheds housing five wooden water tanks

at winter headquarters (Medford),

one superintendent's house
one two-car garage
one warehouse and garage

miscellaneous,

one fire lookout on Mount Scott
two latrines at foot of lake trail
one boat landing on Wizard Island one comfort station at foot of new trail to lake one new pumphouse
A summary of the condition of park buildings at this time reiterated that
practically all of the Park facilities are cheap frame or Log buildings hastily thrown up years ago to serve a temporary purpose during the early road construction period. [26]
Also in this year the Crater Lake National Park Company started building a new cafeteria/general store and a group of small rental cabins. In September 1928 a new log ranger station at Annie Spring was completed, stained on the outside with diluted creosote and covered with a dark green shake roof. Also one of the new cabins at park headquarters was completed and assigned to Park Commissioner Will Steel and his wife. The second new cabin was to be finished in early October. [27]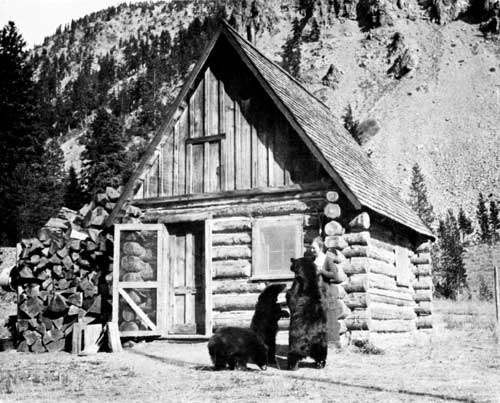 Illustration 37. Will Steel's residence at Government Camp while he served as commissioner. Courtesy Crater Lake National Park.