Print Friendly
Historic Resource Study, Crater Lake National Park, Oregon, 1984
VI. Steps Leading Toward Establishment of Crater Lake National Park
P. William Steel and the Preservation of Crater Lake
Without a doubt, William Gladstone Steel played the most prominent role in the establishment of Crater Lake National Park. It is to his credit that Steel was farsighted enough to realize that such an action must be accomplished quickly. An interesting aspect of Will Steel's conservationist philosophy, however, was that he was not determined to maintain the primitiveness of wilderness areas, but instead felt that national parks such as Crater Lake should be developed as quickly as possible by the federal government in order to attract a multitude of visitors and keep them happily occupied. To this end he campaigned early for a road system in the park and for the establishment of tourist accommodations and recreational opportunities. Steel's indifference to the absolute preservation of natural scenery is evident in his account of his first visit to Crater Lake. After eating their lunch in the crater of Wizard Island, Steel and his party
could not resist the temptation to roll a few large boulders down to the lake before taking our departure. Such sport became very exciting, indeed, as we watched them bounding from rock to rock, increasing in speed and violence, until like a tornado, they swept through the branches of trees a hundred feet high, hurling them to the ground, and dashed on to the quiet waters, beneath which they plunged never more to rise. [42]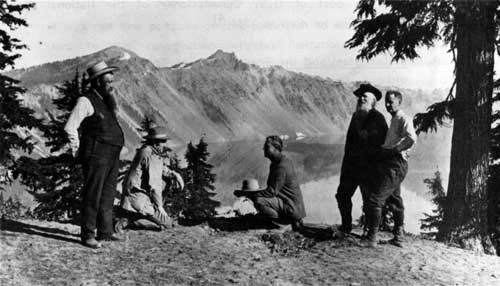 Illustration 7. Steel party on rim of Crater Lake, 1903.
In August 1903 Will Steel guided a number of distinguished people to view Crater Lake. Members of the party included Senator John Mitchell, Senator Charles Fulton and family, Governor George E. Chamberlain, and Joaquin Miller, who by then was acclaimed by many as the foremost poet of the Far West. He was on assignment on this trip, having been commissioned by the editors of Sunset Magazine to report on the lake's beauty and encourage people to visit it, via the Southern Pacific Railroad. Fred Kiser, a well-known Portland photographer, went along to record the trip on film.
The party set off from Medford amid much publicity and rousing good wishes, heading in wagons over Dead Indian Road to the Fort Klamath Indian Agency. The company of twenty-seven people arrived at Crater Lake and camped on the rim. Nearby was a party of about thirty people guided by Captain O.C. Applegate. A leading feature of the trip was a climb of Mount Scott. A sixteen-foot boat was launched into the waters of the lake by means of skids and guy ropes. A most enjoyable time was had by all on this extremely comfortable outing enriched by appetizing menus and entertaining campfire talks.
The above photo taken on the rim of Crater Lake shows, L to R, Phil Metscham, Dr. Edgar P. Hill, Sen. Charles W. Fulton, Joaquin Miller, Will G. Steel. During this trip Miller wrote "Sea of Silence." Courtesy Oregon Historical Society.
Steel apparently did not have a strong commitment to the protection of wildlife around Crater Lake. He once remarked that to those who enjoy the noble sport of hunting, the vicinity of Crater Lake is especially attractive. Great numbers of deer, elk, bear, panther and mountain sheep roam through the timber in fancied security, inviting the keen eye and steady nerve of the sportsman. [43]