Print Friendly
National Park Service Cultural Landscapes Inventory: The Watchman, Crater Lake National Park, 2001
Physical History
Pre-1930
Prior to Crater Lake's establishment as a national park in 1902, William Gladstone Steel accompanied Clarence Dutton's U.S. Geological Survey mapping party in 1886. During this expedition, Watchman Peak (8013') was named. While measuring the depth of the lake, "a party of engineers was stationed on the summit to receive signals and record soundings". They were watching for the signals across the lake to position the party's boat, the Cleetwood (Greene 1984, 305).
Watchman Peak, comprised of andesite, is two-fifths of a mile wide and one and one-quarter miles high (Unrau 1988, 4). From Crater Lake National Park's earliest times, this landform's height was noted for its direct views of the lake to the east, the Klamath Basin to the south, and the Rogue River Valley to the west. To capitalize on these views, a simple trail was aligned in 1916 up Watchman Peak. It was constructed "in order to make it passable for the men and teams and grading equipment that worked on that portion of the Rim Road, between the north slope of the Watchman and the Devil's Backbone." The trail was simple and "constructed in a cheap manner" ranging three to four feet in width with grades to 35%. During this period, the trail was associated with Rim Road's construction and was "charged against the road work" at a cost of $118.95. Although the trail was constructed in connection with Rim Road, it was considered as part of a new network of trails aligned for park visitors as it provided "scenic advantages" to be "used by tourists in ascending the Watchman Peak" (Crater Lake National Park Report by the US Army Corps of Engineers, 1918, n.p.).
By 1917 a simple United States Forest Service cupola-styled fire tower was constructed for educational and fire-watch purposes, in addition to the trail. The trail and building, precursors to the present day trail and observation station, were used to educate park visitors and to protect forest resources from fire. Organized interpretive/educational activities on Watchman Peak began during the summer of 1926 (Unrau 1988, 635). By the summer of 1929, NPS Chief Naturalist Ansel F. Hall advised with the interpretive program which was primarily written by Homuth and Solinsky. Crater Lake Ranger Naturalists, trained in the natural sciences, lead 11/2 hour guided field trips up Watchman Trail (Unrau 1988, 639).
Plans for Interpretation on Watchman Trail and Watchman Observation Station Due to the popularity of these guided fieldtrips, Crater Lake management began to expand these services. New projects at Crater Lake including Watchman Trail and Watchman Observation Station would help "form the nucleus of park educational efforts" at Crater Lake (Unrau, 1988, 640).
Setting the philosophical basis for the program was John C. Merriam, the president of the Carnegie Institution of Washington and consultant to the NPS on interpretation was "convinced that the primary function of park management concerned the use of the parks for their inspirational and educational values. [Interpretation] allowed visitors to make sense of their experience. Recreation was a byproduct of the educational and inspirational experience and not an end in and of itself…" (Mark 1993).
Merriam discussed four features of nature appreciation, which would later indirectly influence the Watchman Observation Station, in a note entitled "Memorandum Regarding Relation of Aesthetic to Scientific Study in an Educational Program at Crater Lake." These ideas were incorporated into the park's educational program and expressed how nature impacts humans emotionally, aesthetically, and with wonderment. Moreover, Watchman Trail and Observation Station would provide one setting among many others including Rim Village and the Castle Crest Wildflower Garden, where park visitors could view the landscape and learn about the science behind the landscape's superficial beauty. Merriam stated:
"Elements of special human appeal of the personal type. Included in this group are many features associated with joys or sorrows of previous life, also factors which have favorable influences on the individual through stimulation to activity or through influences bringing rest or relief.
That which has appeal to the sense of beauty or proportion as it is interpreted by the artist, and with the minimum of expression of purely individual personal appeal. The color sense, symmetry, balance, contrast, and unity in the pattern of nature sum up much of what would be included.
Features that force upon our attention recognition of magnitude, power, majesty, and law in nature. These aspects of nature produce a feeling of awe which may in one direction become fear or in another may be the basis of reverence.
Recognition of that which lies behind the superficial features, represented in the moving element through which the picture has been produced. These factors may be transmuted into what has been referred to as natural law. This type of appreciation means seeing nature as a living, moving, growing thing…"(Unrau, 1988, 641)
As an indirect result of this interpretive planning in 1929, site analysis for a new observation station commenced with an engineer named Porter who drew a contour map of Watchman Peak. In addition, trail construction to the summit was also planned and was noted in a Superintendent's report dated the same year. A new trail had to be constructed for practical and interpretive purposes in order "…to get materials up as well as for hikers who wish to visit the lookout" (Superintendent's Annual Report 1929). This new trail was therefore a necessary component in the construction of the observation station as well as a necessary component for interpretive purposes.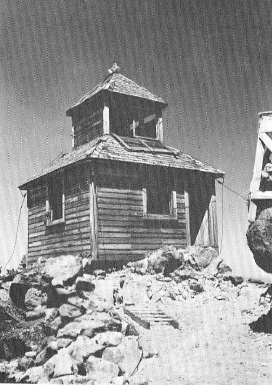 Historic photograph showing Watchman Fire Lookout. This building was replaced by Watchman Observation Station (Historic Resource Study, 1984).