Print Friendly
Charles R. Bacon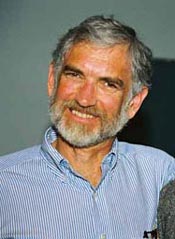 Bacon earned his BS in Geology at Stanford in 1970 and his Ph.D. in Geology from Univ. of California, Berkeley in 1975. His current research interests include Physical volcanology, petrology, geochemistry, and eruptive histories of calderas, emphasizing detailed study of Crater Lake, Oregon, and Veniaminof and Aniakchak calderas, Alaska Peninsula. General interest in volcanic and magmatic processes. Secondary Ion Mass Spectrometry applied to geologic and biologic materials.
Dr. Charles Bacon is a Research Geologist at the U.S. Geological Survey in the Volcano Hazards Team who has done a tremendous amount of work on Crater Lake National Park's geology.
Related Links
 Awards and Honors
1987 – L.R. Wager Medal, Assoc. of Volcanology and Chemistry of the Earth's Interior (IAVCEI)
1999 – N.L. Bowen Award, American Geophysical Union
2003 – Crater Lake Institute Centennial Award for Excellence in Research at Crater Lake National Park
2004 Blue Pencil and Gold Screen Award for "Crater Lake Revealed," by Dave Ramsey, Pete Dartnell, Charlie Bacon, Joel Robinson, and Jim Gardner; Volcano Hazards and Western Coastal and Marine Geology Teams (USGS Geologic Investigations Series I-2790.
2004 – U.S. Department of the Interior Meritorious Service Award
2008 – Elected as Fellow of American Geophysical Union (AGU)
Fellow of the Geological Society of American and Mineralogical Society of America
 Bibliography (Partial)
   General Interest
Nelson, C.H., and Bacon, C.R., 1995, Crater Lake National Park: Presently Tranquil.  U.S. Geological Survey Fact Sheet, 2 p.

Bacon, C. R., 1990, Crater Lake, Oregon:  in Volcanoes of North America, ed. by C. A. Wood and J. Kienle, Cambridge Univeristy Press, p. 193-195.