Print Friendly
Howell Williams (1898-1980)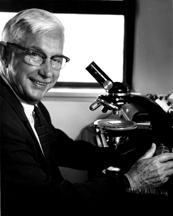 Howell Williams
It is not an exaggeration to say that Howel Williams, through his own work and that of his students, was largely responsible for the emergence of volcanology as a rigorous branch of modern science. Few have left so pervasive an imprint on their fields; even fewer have inspired wider admiration or deeper affection.
Less interested in the eruptive phenomena of active volcanism than in broad structural and petrographic relations, he had a masterful ability to reconstruct the forms and histories of long-extinct volcanic provinces. It was his uncanny eye for landforms and the regional significance of lithologic relations that enabled him to synthesize the evolution of entire provinces from a few seasons of field reconnaissance and petrographic studies. — Alexander R. McBirney (Biographical Memoirs V. 60, National Academy of Sciences, 1991)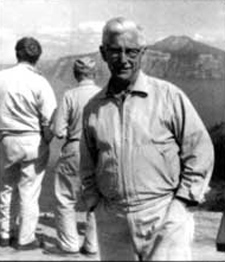 1965, Howel Williams at Crater Lake National Park. National Park Service photo by Ed Paine.
Howel Williams was a world-famous volcanologist and distinguished member of the Univ. of California, Berkeley faculty. In the mid-1930s, Williams began extensive geological investigations of Mt. Mazama, and completed his work in 1941….After definitive studies of the most notable California volcanoes, Mt. Lassen and Mt. Shasta, Williams extended his work to Oregon. Through his great monograph on "The Geology of Crater Lake National Park," published by the Carnegie Institution, and through a University of California Press book on Crater Lake intended for the general public, he became known and appreciated in ever wider circles. To most, the recognition of the collapse or engulfment of the mountain peak of Crater Lake, and his subsequent survey of calderas and their formation throughout the world are his greatest works, but Williams' own greatest love was Sutter Buttes, the study of which began his career in California and ironically, ended it when he returned "to correct the mistakes I made there a half century ago." Most of Williams' publications were based on carefully detailed field work, and here he was a master with few, if any, peers. [Earth and Planetary Science, University of California]
Williams was on an advisory committee set up by George "Doc" Ruhle and chaired by R. W. Leighton of the Univ. of Oregon, including Ruhle, Luther Cressman and others to support scientific and educational work at Crater Lake.

The name of Forgotten Crater, between Hillman and the Watchman, was officially changed to

Williams Crater

, by the Oregon Geographic Names Board in memory of geologist Howel Williams. The name change was first suggest by Dr. Charles Bacon, U.S.G.S. geologist.

[

Smith Brothers' Chronological History of Crater Lake NP

]
Related Links