Print Friendly
William Frank Arant
William Arant was superintendent (1902-1913) of Crater Lake Active park operations began at Crater Lake National Park soon after passage of the establishing act on May 22, 1902. William F. Arant of Klamath Falls was appointed park superintendent on June 7 (he received official notification of his appointment on October 13, 1902).
He served as superintendent until July 1, 1913.
During those eleven years he wintered at his home in Klamath Falls, devoting attention to his private farming and stock raising interests.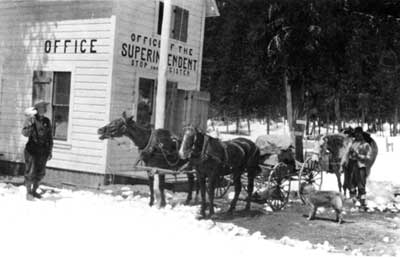 Crater Lake National Park headquarters at Annie Spring, c. 1908. William Arant, 1908, superintendent 1902-1913, is at left.Courtesy of the Oregon Historical Society / OrHi 87263
Related Links
— next >>