Print Friendly
Alex Sparrow
Alex Sparrow was the first full-time superintendent at Crater Lake to be appointed by Mather. His dates of services extended from August 2, 1917, to February 15, 1923. Born in Toronto, Ontario, Canada, Sparrow was a veteran of the Spanish-American War, having served both in Cuba and the Philippines.
Prior to his superintendency, Sparrow settled in the Rogue River Valley and established a farming operation. During the summers of the four years before he became superintendent, he served as an engineer in the park road construction program under the direction of the U.S. Corps of Engineers. In 1916 he served briefly with Brigadier General John J. Pershing during the Mexico border campaign.
While serving as superintendent at Crater Lake, Sparrow was named acting superintendent of Mount Rainier National Park from April 19 to May 28, 1919. After leaving the Park Service he became a Jackson County judge with offices in Medford. [Administrative History of Crater Lake NP]
Related Links
Who remembers Judge Sparrow? – July 1, 1999 – Crater Lake News – Nearly seven decades later, few residents can recall the handsome, charismatic engineer and county judge who forged the rim road around Crater Lake and spearheaded construction of the Jackson County Courthouse.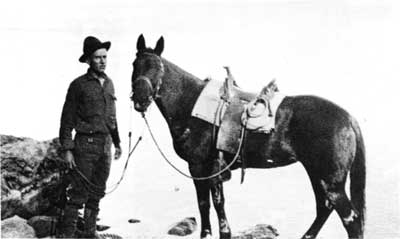 Alex Sparrow, c. 1917. Superintendent, 1917-1923, Crater Lake National Park, with his horse "The Imp". NPSHPC – CRLA – HFC/92-1