Print Friendly
Ernest P. Leavitt
From August 1, 1937 to March 14, 1952, Ernest P. Leavitt served as park superintendent, the longest tenure of any person in that position. Born in San Francisco, California, in 1885 he worked for the Southern Pacific Railroad from 1907 to 1910. In the latter year he began his Park Service career as a clerk at Yosemite National Park, later becoming an administrative assistant to the superintendent and ultimately assistant superintendent from 1918 to 1930.
Thereafter, he served in successive superintendencies at Hawaii Volcanoes National Park (1931-33), Mesa Verde National Park (1933-35), and Lassen Volcanic National Park (1935-37). While at Lassen a gas explosion destroyed the superintendent's residence, severely injuring Leavitt and killing his wife. After his recovery, Leavitt was transferred to Crater Lake. He retired from the Park Service in 1952 and Leavitt lived in the Medford area until his death in 1961. [Administrative History of Crater Lake NP]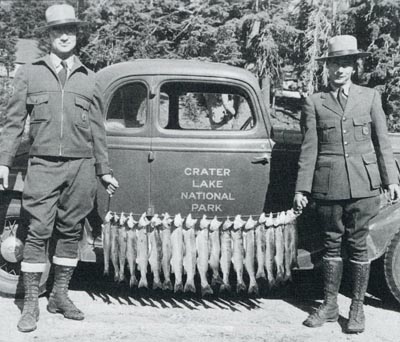 1940, Superintendent Ernest P. Leavitt (left) and Chief Ranger Carlisle Crouch (right) pose with fish caught in Crater Lake. Photo courtesy National Park Service.