Print Friendly
Since Chloe's 6th birthday, my gift to her is a day of climbing, just the two of us.  For her 6th birthday it was 14,262 foot Quandary Peak.  She repeated a winter ascent with me later at age 6.  Then came 14,060 foot Bierstadt and Quandary again. Last year was 9500 foot McLaughlin in Oregon for her 8th birthday.  This year she wanted to climb Mt Scott.
As we entered my favorite national park, Crater Lake, I managed to talk Chloe into taking on something more challenging.  I had not been on Union Peak since Helen and I did a winter ascent 9 years ago with Chloe in Helen's belly.  As Chloe caught a shot of Union Peak from the road just outside the park, she became excited and readily agreed to a bigger challenge.
I was beyond proud of my rapidly growing daughter as she nailed the summit in 2 hours 30 minutes from the trailhead, covering 5 miles and 1860 vertical feet on her way in.
Every trip we do together is a "school" trip.  We set goals, pace ourselves, apply what we are learning to real life scenarios, practice route finding and discuss different emergency scenarios.  Chloe beat me by a year.  I was 10 years old the first time I topped out on Union Peak.  My goal for my kids is to beat me at everything I have ever accomplished in life and learn from my failures before they have a chance to make mistakes.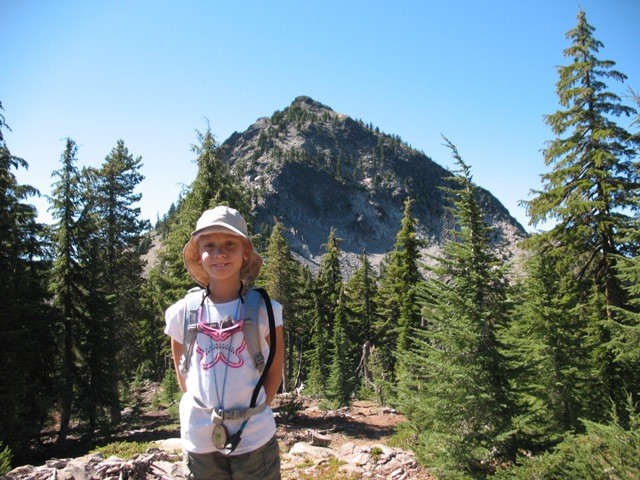 Four miles or so in at the base of Union Peak.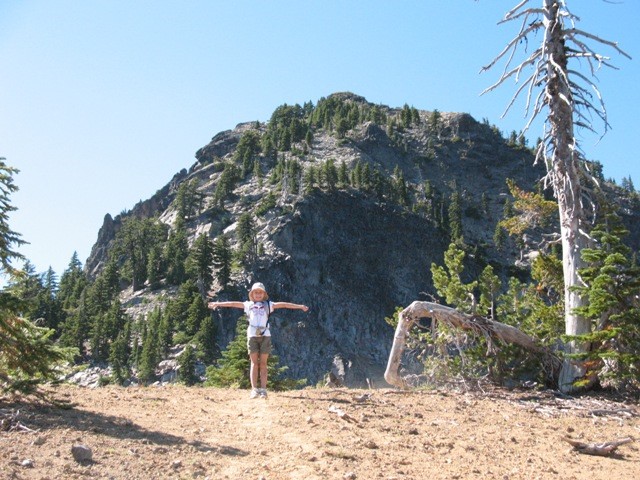 Rather than using the trail, Chloe agreed to take a direct line on 3rd and 4th class rock straight to the summit.  I was going to take her up Thielsen this year but decided the 4th class climbing might be a little sketchy for her.  I was wrong, Chloe is ready for the exposure and harder climbing.  She is getting very good at calculating her moves and doing her own route finding.  She lead the entire climb.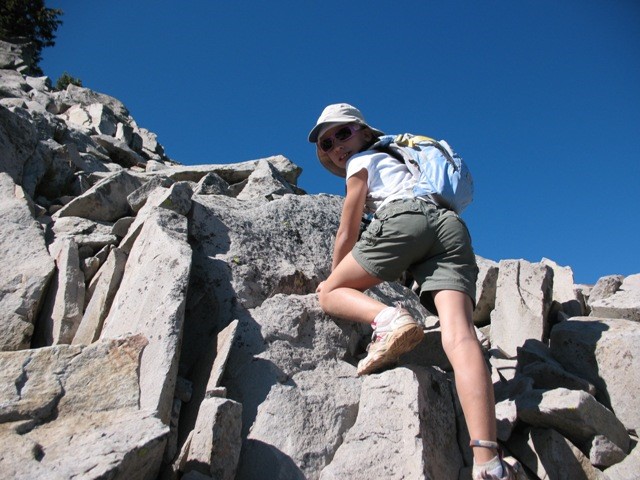 Looking back down the first pitch we climbed.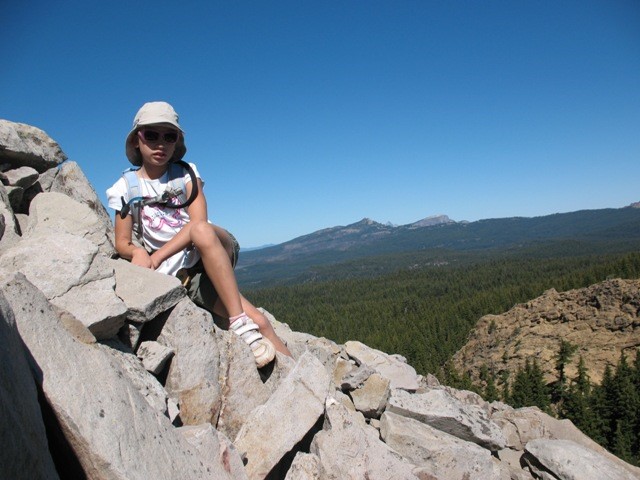 Chloe named this section "scary rock."  It is the only place that she got a little sketched on.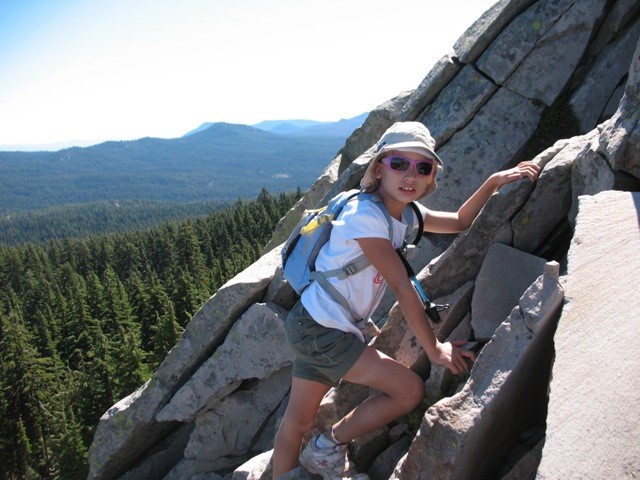 Almost to the summit.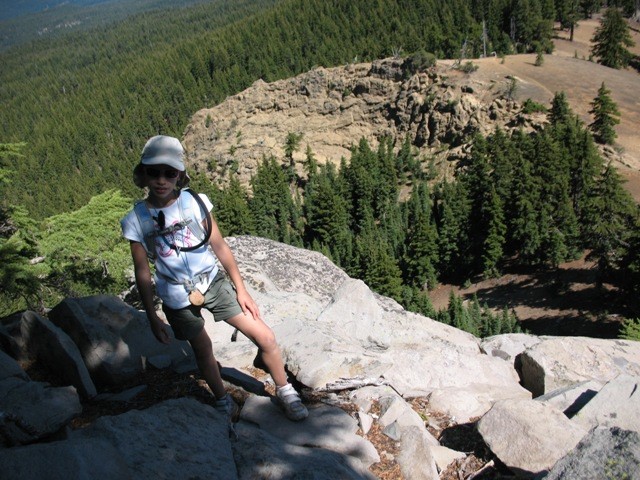 Enjoying an hour on the summit at 7714 feet.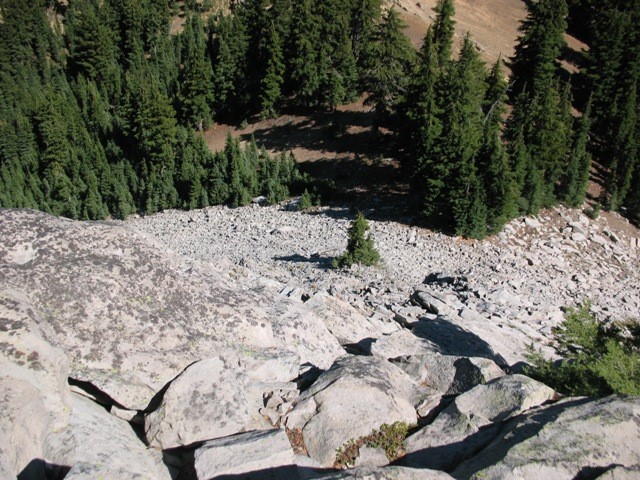 This part of the trip was really cool.  I showed Chloe the campsite that my Dad and I made at the base of Union Peak back around 1980 or 1981 when I was 10 or 11 years old.  We dug around in the fir needles and found the charcoal from the fire that my Dad and I built together 29 years or so ago.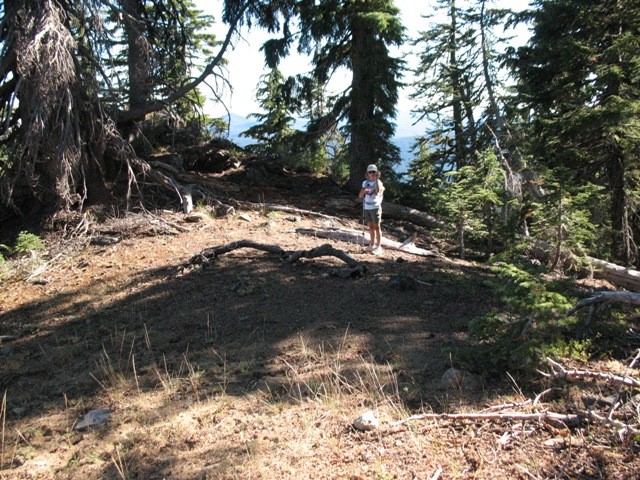 After 10 miles or so of hiking/climbing, Chloe was not done adventuring yet.  I took her down into a little known and really cool area called Lao's Hallway.  It would take growing up at Crater Lake to know how to find it and I doubt many current rangers have even been down there and many probably don't know that it even exists.  Lao's Hallway becomes a narrow pumice slot canyon several hundred feet deep.
We couldn't quite finish the canyon without a rope.  It has changed since I was last down there 7 years ago.  There is now a 10 foot high undercut waterfall with smooth sides.  I was concerned that if we made the 10 foot jump into the pool below that we would get trapped and not be able to get back out of the canyon so we called it a day and plan to bring a rope next time.
Chloe finished the day doing 12 miles.  She was still strong and route found our way cross country back to the road as it was dark on the way back out of the canyon.  I am once again beyond proud of my little girl.  She is growing up so fast!
Chloe Union Peak Sept 2009 005
Brian Smith
President/Founder
Helping Assist Nepal's Disabled
<< previous —