Print Friendly
Crater Lake National Park Centennial Oral Histories
 Alice Marie Mason Campbell
 The Summer of 1948, Crater Lake, Oregon

Let me think back, a summer at Crater Lake —WOW! The possibility of a job there as I finished High School at Grant, was a chance to fulfill a dream of mine. By saving all I earned, and sending it home to my Aunt and Uncle, I could meet the tuition costs for the 3 year Nurses Training program at Emanuel Hospital in Portland, Oregon.
To just "be" at the lake all summer was very exciting to me. I had not seen Crater Lake until we arrived June 16th, 1948 and so began my true love affair with it's beauty. I had the good fortune to be assigned the Gift Counter in the Lodge as my work station. The Ever Changing Light and Colors on the crater and water, will forever be indelibly within the magic of my photo memories.
With me, I had a Brownie box camera, though all my photographs are in black and white, the memories are in full color.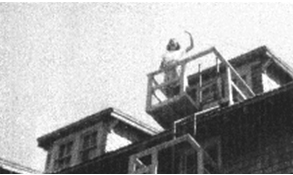 Our room above the garbage cans, 3rd floor in Lodge, Room Mate – June Linville. Me – Alice Mason, now Campbell

During that "Summer of '48" I enjoyed my job, meeting people from around the world, making many new friends with the other students and staff. One couple in particular come to mind, Shorty and Ada from Klamath Falls. Ada was in charge of the cafeteria and we took many hikes together. Shorty ran the boats on the lake that year and the trail went down the south wall below the Lodge to the dock. Several times I hiked down wearing a swimsuit under my shorts and blouse. After the people and boats left the dock Shorty had given the okay to take a short swim. Wow, so cool!!
My room was in the lodge, up on the 3rd.floor as I recall, directly above the garbage cans. Early morning pickup always was a good alarm clock. During the evenings and off duty times we all enjoyed the activities in the Community Hall. There were table games, puzzles, music, just visiting and the dances on Friday and Saturday evenings were very special. During early July, I asked the bus driver to Medford if he would pick up a pattern, material, zipper, needles and thread to hand make myself a dress for the dances. I drew a picture for it and asked for medium green fabric. He did a great job and the dress was worn two weeks later.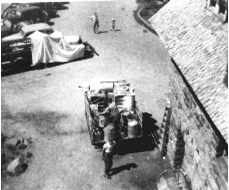 From 3rd floor room – the "garbage man" Kurt (in truck) and George Roast. He was killed – hiking that summer 1948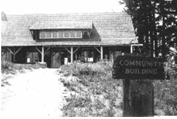 There was a very special friendship with a young man from Holland. Following the summer George was going to attend Reed College on a full science scholarship. However, he and some other young men, along with a Park Ranger, went hiking on the east side, towards Mt. Scott. On the way back George and another boy asked to hike in another area. During this hike on a loose shale area, George slipped and was not able stop or grab anything to brake his roll down the steep ledge terrain. His death left a big void, as well as a hard lesson learned. I and the other students really felt this loss. He was very outgoing and a lot of fun, a great dancer, and a wonderful person.
Oh yes, when we arrived there were still sixteen foot snow banks and the lodge entry still had it's tunnel through the snow. After stocking our shelves with film and gift items, ready for opening in two to three days, several girls and I would sunbathe on those snow banks. Such fond memories, the visiting, getting to know each other from many parts of the northwest and other countries. Oh, what a fun time!!!
A special treat for each employee, was a boat trip on Crater Lake during our stay there. It was certainly a highlight for me. I found the geology of the lake fascinating, LLao Rock, Devils Backbone, the Old Man of the Lake, Phantom Ship, the Hourglass and the caves. One day I was able to go to Wizard Island and hiked to the top and down into the crater. It was much larger and deeper than it appears from shore and is very loose and pebbly, and 'twas very, very warm!
In recent years I've returned with my husband, camping in the lower campground several times. It was the year the boat dock broke from its pilings, that my husband and I were there in late July and hiked down for the first day of boat rides. It was a beautiful, stunning day within the cauldron. I have many wonderful photos taken that day and it was my husbands first trip on the water, something I had wanted to share with him through the years. A time together we will long remember. We had brought the children, when school age, and camped up by the lodge. And yes, the bears did visit throughout the weeks stay.
I did fulfill my dream of becoming a Registered Nurse in 1951, and it was in large part due to my employment that long ago summer. And I now have many lovely photographs in color of Crater Lake and have exhibited them in recent years.
P.S. I met my husband through Bella, a patient I was taking care of as a student nurse. He lived across the street from her. We were married in August of 1951 following a two and a half year courtship.