Print Friendly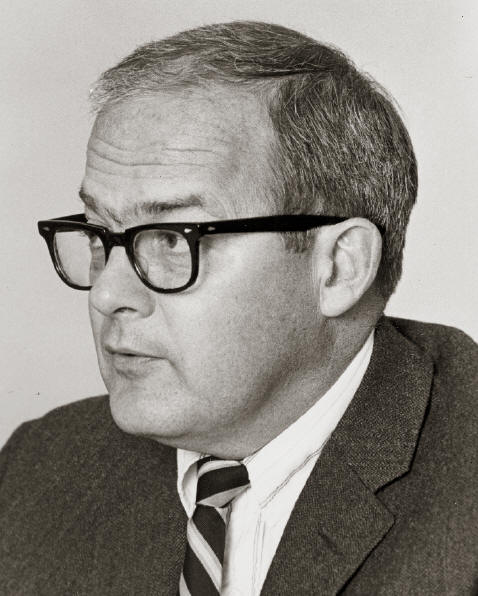 William C. Everhart, before 1977. (National Park Service Historic Photograph Collection, Harpers Ferry Center.)
William C. Everhart, a veteran of twenty-six years with the National Park Service, participated in two of the three oral history interview sessions. Everhart grew up in Gettysburg, Pennsylvania, and received a bachelor's degree from Gettysburg College. During World War II , he enlisted in the army infantry, participating in the Battle of the Bulge. After the war, he continued his education. He received a master's degree in history from Penn State and then enrolled in a doctoral program in history at the University of Pennsylvania. While pursuing his doctoral studies, he accepted a summer job as a ranger historian at Gettysburg National Military Park. During Everhart's second year at the university, the battlefield historian, Fred Tilberg, hired him on a permanent basis as his assistant in 1951.
Everhart would have six different positions in his first six years with the National Park Service. After a year at Gettysburg, Everhart accepted a position as park historian at Vicksburg National Military Park in Mississippi, where he managed the interpretive program. He later became project historian with the Atlantic and Gulf Coast seashore survey and then went on to Philadelphia to supervise historians and curators in the restoration of Independence Hall. The Park Service transferred him to San Francisco in the mid 1950s to participate in a national survey of historic sites and buildings. Toward the end of his second year in San Francisco, Everhart was invited by George Hartzog to join him in St. Louis to research and plan the Museum of Westward Expansion underneath the Gateway Arch.
Everhart preceded Hartzog to Park Service headquarters in Washington, D.C. In 1962 he was assigned to serve on a task force preparing long-range plans for the Service. When Hartzog later became National Park Service director, he offered Everhart the position of assistant director for interpretation. Everhart became the first director of the Park Service's interpretive design center opened in 1970 at Harpers Ferry, West Virginia, to house graphic designers, editors, curators, photographers, and other professionals who developed interpretative displays and performed other tasks in support of the parks. After his work at Harpers Ferry Center, he served Park Service directors Ronald H. Walker and Gary Everhardt as special assistant for policy. Everhart retired from the Service in 1977. Following retirement he spent time as a visiting professor at Clemson University and published two classic Park Service histories: The National Park Service in 1972 (rev. ed., 1983) and Take Down Flag & Feed Horses in 1998.