Print Friendly
Probing the Depths of Crater Lake: A Century of Scientific Research by Douglas Larson
Webmaster's Note: A big thank you to the author, Douglas Larson, for allowing the Crater Lake Institute (CLI) to post this article.
Over the past one hundred years, more than 25 million people have visited Oregon's Crater Lake National Park to behold the majestic beauty of what is perhaps the most remarkable lake on Earth. At nearly two thousand feet deep, Crater Lake is the deepest lake in the United States and the seventh deepest in the world. To view the lake, visitors must first journey up the slopes of an ancient volcano, traversing vast pumice fields and scattered mountain meadows, before climbing steep, forested slopes that rise abruptly to the jagged rim of the caldera hundreds of feet above the lake's surface. Their first breathtaking glimpse of the lake is of an enormous volcanic depression, or caldera, filled with incredibly clear, blue water. "As the visitor reaches the brink of the cliff," geologist Clarence Dutton promised in his 1886 essay on Crater Lake published in Science, "he suddenly sees below him an expanse of ultramarine blue of a richness and intensity which he has probably never seen before, and will not likely see again. Lake Tahoe may rival this color, but cannot surpass it. . . . It is difficult to compare this scene with any other in the world, for there is none that sufficiently resembles it."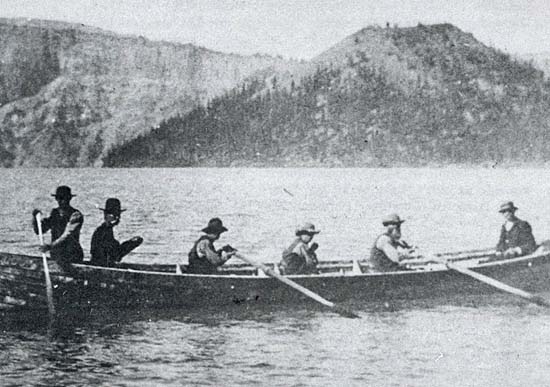 Early scientists sound Crater lake aboard the Cleetwood in July 1886.
— next >>