Print Friendly
South Entrance Road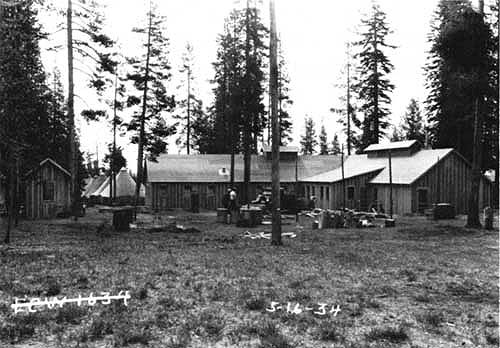 The Civilian Conservation Corps (CCC) camp at Annie Springs in 1934.
The CCC was a public work relief program that operated from 1933 to 1942 throughout the United States for unemployed, unmarried men from relief families, ages 18–25. It was part of Roosevelt's New Deal. The CCC was designed to provide jobs for young men, to relieve families who had difficulty finding jobs during the Great Depression, and in nine years 3 million young men participated in the CCC, which provided them with shelter, clothing, and food, together with a small wage of $30 a month ($25 of which had to be sent home to their families).
While the CCC led to a greater public awareness and appreciation of the outdoors and the nation's natural resources; it showed the continued need for a carefully planned, comprehensive national program for the protection and development of natural resources we still see today in our National Parks. The road you drive on, the bridge you cross, the beautiful stonework retaining walls, campground and many park buildings are the result of this program.
This portion of Highway 62 links the road junction near Annie Spring with the park's south boundary, a distance of 10.24 miles. elongated curves and greater sight distance in comparison to the West Entrance Road. There is ample opportunity for visitors to stop and view the stream canyon formed by Annie Creek that cuts through pumice and ash ejected by Mount Mazama during its climactic eruption.

The size of what amounts to a road corridor, it extends for 2.3 miles and contains large trees that arguably provide the most impressive portal for visitors entering the park. Just over 3 miles from the boundary, however, the ponderosa pine quickly gives way to more monotonous lodgepole pine and some mountain hemlock. These tree species, along with an occasional western white pine, line the roadway toward the Annie Spring junction with occasional glimpse of features like Crater Peak.

South Entrance Road 

9.9 miles northbound

South Boundary (mile 0.0).

Ponderosa Pine picnic area (mile 0.4). This picnic area is set amid a forest dominated by ponderosa pine and conifers such as Douglas fir, sugar pine, and white fir. It contains a vault toilet and information kiosk completed in 2002, with only a short walk down slope from these facilities required for visitors to reach Annie Creek. Located less than a half mile from the park's south entrance, this is the only place motorists can stop within the "panhandle".

This picnic area is set amid a forest dominated by ponderosa pine and conifers such as Douglas fir, sugar pine, and white fir. It contains a vault toilet and information kiosk completed in 2002, with only a short walk down slope from these facilities required for visitors to reach Annie Creek.

Old South Boundary (mile 2.4). Passing between giant ponderosa pines, is the old boundary that marked the original southward extent of the park along the highway. It is designated by a low concrete shaft erected by the General Land Office.

Viewpoint of Annie Creek Canyon (mile 3.7).

Annie Creek Canyon viewpoint parking (mile 4.2). The sheer walls are cut from dark, massive, columnar scoria, that is overlain by some 20 feet of ash. This deposit was laid down by the glowing avalanches that rushed down the canyons during the climax eruptions.

Annie Falls picnic area (mile 4.8). Annie Falls can be seen from the southern end of a short loop road. Across the canyon is Crater Peak, a feature easily seen from the highway by looking east.

Union Peak lava flow cliff (mile 5.6). The cliff to the left is basaltic, a result of the flows from the old Union Peak volcano. It is a part of the wall of the great valley once existing here that was filled to the level of the roadway by the pumice and scoria flows, and ash eruptions that marked the climax activity of Mount Mazama.

Crater Peak (mile 6.1). The prominent, forested cone of Crater Peak is across Annie Creek Canyon. Although unmodified by glaciation, in rests on, and is surrounded by glacial drift. It is composed of materials much like those that make up the cone of Wizard Island.

Lodgepole Pine picnic area (mile 7.0). Although bereft of scenic vistas, this picnic area lies beneath the canopy of a wonderful old forest. It is located across the road from a trailhead leading to Pumice Flat and Union Peak.

Pole Bridge Creek crossing (mile 7.6). This creek was named for a lodgepole pine bridge that was constructed over it in 1865 by Fort Klamath soldiers.

Mixed forest (mile 7.7). You are now passing through a mixed forest of in which western white pines attain their optimum growth. Graceful hemlocks and Shasta red firs begin to assume prominence in the forest.

Arant Point bluffs and talus (mile 8.4). To the west are the bluffs and talus formed by lavas from Arant Point, the remnants of a parasitic vent of the Union Peak shield volcano. The point was named after W. F. Arant, first superintendent of the park.

Godfrey Glen and Colonnade (mile 8.5).

lodgepole pine (mile 9.1). You are now passing through a stand of lodgepole pine with a small mixture of hemlock, Shasta red fir and western white pine.
 Mazama Campground Entrance (mile 9.4). 

The Mazama Village Campground has 212 Tent and RV sites. The campground is open from mid-June to late September/early October, weather permitting. Reservations can be made for a limited quantity of sites and the remaining sites are available on a first-come-first-served basis. Electrical hookups are available at a few sites. Amenities include water hydrants throughout the campground, fire rings, picnic tables, public restrooms, public showers, laundry facilities, a camper store, a gas station (including propane), and a dump station.

Annie Spring (south) Entrance Station (mile 9.9). Annie Creek rises in Annie Spring that is below the road above the ranger station. It was named for Miss Annie Gaines who in 1865 was the first white woman to reach the water of Crater Lake. A path leads to the large, limpid spring from which water is lifted by a hydraulic ram for use above.Within a mile of the road junction at Annie Spring is the Godfrey Glen Overlook, a paved parking area separated from the canyon's edge by masonry guardrail. The "glen" is where headwater streams join erosional remnants called "pinnacles," which occur along the edges of the canyon and can be seen downstream near several other parking areas.