Print Friendly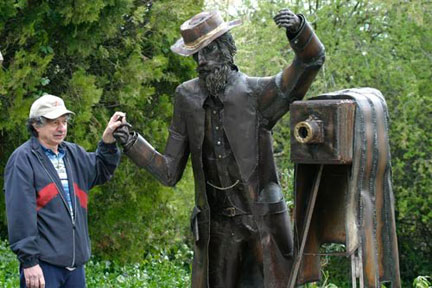 Ron Mastrogiuseppe (founder and president)
Ron grew up among the fragmented, logged deciduous forests of West Virginia's Appalachian Mountains and graduated from West Virginia University with a B.S. in forest science. His first Forest Service job was as a timber cruiser and as a fire lookout at historic Bessie Rock with a view into Crater Lake National Park.
Ron's first exposure to professional naturalist activities was through the mentoring of Dick McP. Brown, Chief Naturalist. He also had the good fortune of working with Russ Grater's naturalist team in 1965-66 at Sequoia-Kings Canyon and assisting the pioneering fire ecology studies of Drs. Richard Hartesveldt and Tom Harvey of San Jose State University, in Redwood Mountain Grove.
At Humboldt State, he studied coastal redwood ecology and researched the variation in Klamath Mtn. and southern Sierra Nevada foxtail pine populations for his M.S. Thesis research. Ron was the first naturalist at Redwood National Park and worked later as a forest ecologist following park expansion in 1978.  He also assisted in pioneering the fire ecology and fire management program at Crater Lake following the drinking water crisis of 1975.
Following his retirement from the NPS, Ron began promoting the idea of an educational institute at Crater Lake to serve as a forum for debate of natural resource issues and to enhance the visitor experience through a lodging and learning program.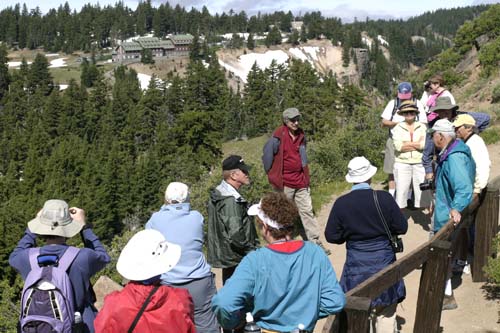 Ron leads an enthusiastic group up the Garfield Peak Trail at Crater Lake.