Print Friendly
Initial Effects of Prescribed Fire in a Climax Pinus contorta forest: Crater Lake National Park
By James K. Agee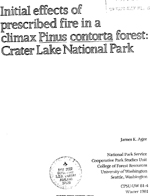 Complete PDF file fire-effects-thesis-perrakis
Initial Effects of Prescribed Fire in a Climax Pinus contorta forest: Crater Lake National Park
By James K. Agee
During Summer 1980, a prescribed fire at Crater Lake National Park occurred in the vicinity of Sharp Peak primarily in climax Pinus ponderosa forest. In its final stages it was observed moving into climax Pinus contorta forest within the boundaries of the burn (Figure 1). This brief project was generated upon viewing the unusual fire behavior at this site.
Objectives
 There were two objectives to the research:
1. To document, primarily in an ex post facto manner, the fire behavior in the stand and the ecological effects of this fire.
2. To provide additional data for a revised proposal from the University of Washington to the National Science Foundation to study the relationship between fire, insects, and fungi in climax P. contortaecosystems.