Print Friendly
Crater Lake Discovered on Hunt for Lost Mine
Independent-Press Telegram
Long Beach, California
May 24, 1953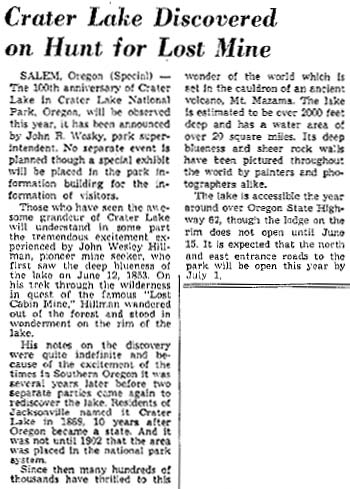 The 100th anniversary of Crater Lake in Crater Lake National Park, Oregon, will be observed this year, it has been announced by John R. Wosky, park superintendent. No separate event is planned though a special exhibit will be placed in the park information building for the information of visitors.
Those who have seen the awesome grandeur of Crater Lake will understand in some part the tremendous excitement experienced by John Wesley Hillman, pioneer mine seeker, who first saw the deep blueness of the lake on June 12, 1853. On his trek through the wilderness in quest of the famous "Lost Cabin Mine," Hillman wandered out of the forest and stood in wonderment on the rim of the lake.
His notes on the discovery were quite indefinite and because of the excitement of the times in Southern Oregon it was several years later before two separate parties came again to rediscover the lake. Residents of Jacksonville named it Crater Lake in 1868. 10 years after Oregon became a state. And it was not until 1902 that the area was placed in the national park system.
Since then many hundreds of thousands have thrilled to this wonder of the world which is set in the cauldron of an ancient volcano, Mt. Mazama. The lake is estimated to be over 2000 feet deep and has a water area of over 20 square miles. Its deep blueness and sheer rock walls have been pictured throughout the world by painters and photographers alike.
The lake is accessible the year around over Oregon State Highway 62, though the lodge on the rim does not open until June 15. It is expected that the north and east entrance roads to the park will be open this year by July 1.