Print Friendly
Wikipedia: "A touring car is an open car seating four or more. A popular car body style in the early twentieth century, it declined in popularity in the 1920s when closed bodies became less expensive." – And let's face it, unless you have one of these and your name is Gatsby, your Crater Lake Experience will certainly be less than it was in the '20s.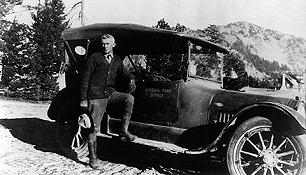 Auto Touring
The most popular auto-touring route at Crater Lake is the 33-mile Rim Drive. This road provides spectacular views of Crater Lake and the surrounding area. The road is narrow with long, steep grades. There are several other roads (called approach roads) within Crater Lake that you can use to explore the many other habitats of Crater Lake (see the map below): These include the South Entrance road (highway 62), West Entrance road (highway 62), Munson Valley road, the North Entrance road, and the Pinnacles road.
Important Map Locations
1. Steel Information Center and Park Headquarters
2. Cleatwood Trail to tour boats
3. Cloudcap Overlook spur road and Mount Scott trailhead
4. Sun Notch Overlook
5. The Watchman Overlook and trail to firetower
Related Links
History of Rim Drive: Historic American Engineering Record (HAER); study of Crater Lake National Park Roads by Stephen Mark and Justine Christianson.
Did you know?


The Belted Kingfisher will hover in place directly over a river, lake, or pond, watching for fish before diving to catch them.