Print Friendly
Crater Lake project restores purpose to Rim Village sites
Mail Tribune
Medford, Oregon
July 1, 2001
By PAUL FATTIG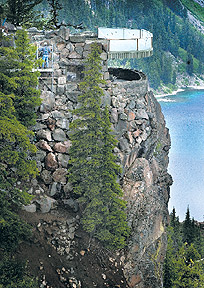 Mail Tribune / Jim Craven photoKirk Clark, above, repoints the stonework outside the Sinnott Memorial Overlook at Crater Lake National Park. The overlook is one of three historical buildings getting a facelift at the popular Southern Oregon attraction. At left, the community hall at Crater Lake National Park is undergoing reconstruction as part of a rehabilitation project at the park.
If you had taken a boat out on the crystal clear waters of Crater Lake 70 years ago, chances are you wouldn't have been able to locate the new Sinnott Memorial building high above on the south rim.
Never mind that it has a prominent perch over the nation's deepest lake.
"From any distance, it is virtually invisible to see," observed Steve Mark, historian for Crater Lake National Park. "You really have to know where this building is to see it."
Retaining that natural camouflage in the side of the caldera is a high priority as the National Park Service rehabilitates the building built in 1930. The walls of the building are made of huge rocks that were part of Mount Mazama before its volcanic explosion created the lake more than 7,000 years ago.
The rehabilitation is part of a $1.7 million project under way in the Rim Village Historic District this summer.
In addition to the Sinnott Memorial, named after Nicholas J. Sinnott, an Oregon congressman from 1913-28, the park service is also rehabilitating the Kiser Studio built in 1921, the community building built in 1924 and an historic restroom, circa 1938. The goal is to have the work completed by Oct. 1.
The primary contractor is Ramsay/Gerding Construction Inc. from Corvallis. The stonework on the projects is being done by Pioneer Waterproofing, a masonry contractor based in Portland.
The Crater Lake lodge, whose construction began in 1909, making it the oldest building in the park, was rehabilitated in the 1990s.
"The Sinnott Memorial building is, in a lot of ways, the most important building in the park," Mark said. "It is unique to Crater Lake."
The building, embedded in side of the caldera a hundred feet below the rim, it has a combination overlook with a parapet and a room for a museum in the rear of the building.
"They figured if they could build this, using large rocks, quite an engineering feat at the time, then they could do it elsewhere," Mark said.
Although a similar building was erected in the Grand Canyon National Park before the Sinnott Memorial was built, it doesn't match the latter, Mark stressed.
"This one is really unique in the park service," he said adding that uniqueness will remain when the construction is finished.
The work calls for a new roof, new floor and rehabilitated stonework.
The Kiser Studio, located nearby atop the rim, was named for photographer Fred Kiser who established a studio at the site in 1921. It was there that he sold photographs and post cards depicting the world-famous lake.
"There was concern on the part of the park service back then that this building was too close to the rim," Mark said. "Kiser had wanted a wood frame building. The tradeoff was that he could have the site but it would have to be made of stone."
A contractor named Frank Salter in Medford did the original stone work.
When completed, a concrete floor will replace the old wooden floor in the studio, said project supervisor Gina Freel, a civil engineer on loan from the Forest Service.
"We're also beefing up the roof structure,' she added.
After Kiser left for lower elevations, park officials turned the studio into an information center in 1932.
"The ultimate plan is to use this for cultural resources in some fashion," Mark said. "It'll be used again."
So will the log community building which has been used largely for storage since the late 1980s.
When finished, the building will once again be used for evening interpretative programs, said John Miele, management assistant at the park.
"That was it's original intended purpose," he said. "There have also been quite a few alterations over the years that changed the character of the building. It will be restored to the way it appeared in 1924."
The logs used framing the building are in good shape, said project superintendent Greg Hartell, who works for Ramsay/Gerding.
"Obviously, the engineering was sound – this building is still here," Hartell said, referring to the tremendous pressures brought about by the annual heavy snowfall at the rim some 7,000 feet above sea level.
"There are some lateral forces on the building that caused problems but the roof structure – a log scissors trust – is still intact," he said. "There is very little evidence of rot."
In fact, the pine log beams used in the ridge line will go back to their original positions, albeit they are being reinforced by structural steel, Hartell said.
"I was really impressed with those hand-hewn logs and wood beams," Hartell said. "It would be hard to find people today with the skill to do that."
The community building was actually the first structure built by the park service at the park, Mark said, noting that both the Kiser Studio and the lodge were operated by contractors.
"This was the first headquarters for interpreting the park," he said, noting that it housed a small museum exhibit beginning in 1926.
The money for the community building was originally earmarked for a park superintendent's residence in Medford, Mark said.
"But it wasn't enough so the superintendent directed the money here to build this community building in connection to a campground," he said.
A nearby "comfort" station – restroom facility – built in 1937 by the Civilian Conservation Corps is also being rehabilitated.
"Before they built that, they (park officials) didn't trust the CCC to do an entire building," Mark said. "This demonstrated that the CCC could do a nice job."
Reach reporter Paul Fattig at 776-4496 or e-mail him at pfattig@mailtribune.com