Print Friendly
Crater Lake centennial party: Celebration amid the smoke
Herald and News
Klamath Falls, Oregon
August 26, 2002
By LEE JUILLERAT
CRATER LAKE — John Philip Sousa marches, and the haunting, taunting beats of Indian drums and singers.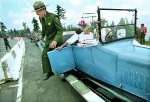 Speeches with words often lost to audiences chattering, instead, with old friends.
Classic cars carrying dignitaries, and yellow school buses ferrying people who left their vehicles below in miles-away parking lots, fields and picnic areas.
Crater Lake National Park's Rim Village parking area, usually swarming with coming-and-going cars and RVs, was filled instead with people trying to stay warm in unseasonable, but not unusual, cool temperatures.
Nothing was particularly normal, but that was expected as the park brought its five-day long centennial celebration to a climax on Sunday. The actual celebration ended today with a first-ever reunion of nearly 400 current and past employees, but Sunday's gathering was the emotional high point, a festive atmosphere of appreciation as officials honored the past, and stepped into the park's second century.
At a park famed for its clear skies and dazzling cobalt waters, views were disappointingly obscured by drifting smoke from regional forest fires.
"You may have to take this old ranger's word for it that the lake is incredibly blue," Superintendent Chuck Lundy quipped during the ceremonies.
Contrasts and unintended irony mirrored the sometimes unusual happenings. Lundy, for example, outlined changes that within a few years will remove the parking lot where Sunday's celebration's was held and replace it with pedestrian walkways and native shrubs and grasses where the future focus will be on views of the lake.
Plans for the future figured prominently, as did an intended "respectful" look at the past.
Chuck Lundy, superintendent of Crater Lake National Park, climbs from a vintage car during the ceremonies for rededication of Crater Lake National Park Sunday.
Art Eck, the National Park Service's acting regional director, praised park staffs, "not only for what they have done in the past, but what they have proposed for the future."
Referring to coming changes at Rim Village and the creation of a Crater Lake Science and Learning Center, Eck said national parks face challenges bringing "science and scientists to national parks." He said new priorities include "teaching that next generation," insisting, "It is for us, not the park, to rededicate our efforts."
Klamath County Commissioner Steve West and Sen. Gordon Smith told of their efforts to lure President George Bush to the centennial celebration. Until quashed by Secret Service concerns, Bush had been scheduled to attend last Thursday's science and learning center dedication.
West also told how efforts to create special Crater Lake license plates originated and succeeded. Park ranger Mary Rasmussen was credited with generating the idea, which was accomplished through legislation sponsored by state Sen. Jason Atkinson of Jacksonville and realized after Klamaths County provided a $150,000 loan to cover costs of producing the plates, which went on sale at state DMV offices this morning.
Smith, noting "Crater Lake is a rare jewel born out of the furnace and fury" of the explosion and collapse of Mount Mazama, called the lake "a shared treasure for all Americans … In this place we are reminded that nature can heal the land."
Allen Foreman, chairman of the Klamath Tribes, said Klamaths held Crater Lake as a place revered and respected, both as spiritual and as a "place of power." He said generations of Klamaths denied existence of the lake until John Wesley Hillman and other prospectors in 1853 "stumbled upon what we had known for generations."
An interlude to the talks was provided by the Steiger Butte Singers, a group of Klamath Tribal members who provided color, flair and excitement with drumming, singing and a selection of dances.
Nearly lost in the ceremonies were Lundy's closing comments about a future tinted bronze plaque to commemorate the celebration and a future time capsule that will be filled with items remembering the park's first 100 years.
The plaque will eventually be displayed at various locations until permanently affixed outside the park's first-ever visitors center, which could be built within the coming decade. The time capsule, likewise, will be located in the future visitors center until being opened at the park's bicentennial — in 2102.