Print Friendly
Crater Lake ski patrol earns national honors
Herald and News
Klamath Falls, Oregon
May 29, 2003
By LEE JUILLERAT
CRATER LAKE – This isn't the season for cross country skiing, but for members of the Crater Lake National Park Ski Patrol it is a time for celebrating.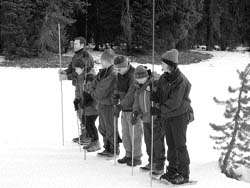 Crater Lake Ski Patrol members practice snow probing during a training session.

The 50-plus ski patrol volunteers have good reason.
The Crater Lake ski patrol was recently named the nation's outstanding volunteer group and awarded the first-ever George B. Hartzog Jr. Award for Outstanding Volunteer Service.
"It wasn't like the ski patrol's time came up," says Martha Hess, Crater Lake's volunteer coordinator, of the winning that will become an annual award. "This is the first."
Hess and park rangers hold the ski patrol in high regard. Created in the 1980s, largely through the efforts of Klamath Falls cross country skiers, the group mostly works independently as the main contact between the park and winter visitors.
"The ski patrol received this honor because they are self-contained and self-motivated," says Hess. "They really do 90 percent of the training and organizing themselves."
Pete Rinehart, a long-time park ranger, agrees.
"This is a group of individuals who are firmly committed to protecting the cultural and natural resources found within Crater Lake National Park," says Rinehart. "They assist the park ranger staff throughout the winter months on resource snowpack surveys, record avalanche data and monitor snowmobile use.
The patrol normally has about 30 members, but last winter added about 20 "candidates," skiers who spend a year learning the necessary information before being considered as patrol members.
"We wanted to get some new blood," explains Dan Jacobs, a park ranger who has worked closely with the patrol.
Serving on the patrol isn't just about skiing. Each fall, patrollers must to attend a pair of training weekends. In addition, each member must patrol three weekends a winter. On most weekends, four to six patrollers are on duty. They are provided housing near the park headquarters complex and each receives a $7-a-day stipend.
Volunteers are from Klamath Falls, Medford, Grants Pass and Roseburg, with some from the Portland area. Skiing skills, Jacobs says, range from "top notch and totally trained" to "good skiers learning the rest. They don't have to be hot-shot skiers. We're looking for people who buy into the program, who are dedicated."
Through an elected ski patrol council, volunteers meet with park staff to schedule work assignments. The park helps with providing equipment, including probe poles, shovels and easy-to-identify red jackets.
While on duty patrollers, as needed, provide visitor protection, give first aid and provide visitor education, such as advice on where to ski, trail conditions and avalanche danger. During a typical weekend, patrollers might replant signs as the snow depth increases or decreases, set tracks on popular trails, and dig avalanche pits. Four hours of each weekend is spent on training, such as pulling sleds and honing GPS skills.
"They are our outdoors operation in the winter," says Jacobs, noting patrollers put in 2,800 volunteers hours, skied 2,100 miles, participated in several major search and rescue missions and contacted more than 500 backcountry parties during the 2001-2002 winter season.
Along with the Hartzog Award, Hess was able to ply a $5,000 grant from Allegra that will be used to buy items.
The National Park Foundation, which helped arrange the Hartzog awards, paid the costs for Hess and three founding ski patrol members, including Niel Barrett of Klamath Falls and Dan Sullivan Miller, formerly of Klamath Falls, to attend award ceremonies in Washington, D.C. Another four members, some with spouses, paid their own expenses.
Ceremonies were held at the Franklin D. Roosevelt Memorial followed by lunch at Ebbett's Grill. Patrollers met with various dignitaries, including Interior Secretary Gale Norton.
"This is a group that really deserves all the recognition possible," says Jacobs, a comment echoed by Hess, Rinehart and park managers. "They carry our program. Without them, we wouldn't have the ability to provide services to our visitors."