Print Friendly
Klamath Falls native wins marathon
Herald and News
Klamath Falls, Oregon
August 11, 2003
By ROB McCALLUM
CRATER LAKE NATIONAL PARK – No one said the Crater Lake Rim Runs and Marathon would be a walk through the park.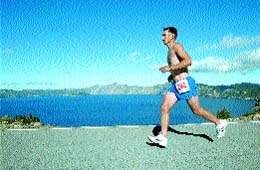 Randy Bailey competes Saturday in the marathon at the Crater Lake Rim Runs and Marathon. Bailey took first place in the event.
In fact, most of the top runners in the 26.2-mile race were expecting a morning of suffering.
Saturday's champion was decided by whoever was least affected by high altitude, frigid crosswinds and long distance.
Klamath Falls native Randy Bailey battled through stomach pains to win his first Crater Lake Rim Runs and Marathon title in a time of 2 hours, 56 minutes and 58 seconds, more than 12 minutes ahead of his nearest competitor.
"My legs felt pretty good but my stomach hurt," said Bailey, who coaches cross country at Mazama High School. "I had to stop and walk a couple of times. It could have been caused by a number of things; something I ate, something I drank, anything."
The race starts at 7,600 feet above sea level, and after 26.2 miles of up-and-down terrain, it ends at 5,980 feet.
"There's no real flat part," Bailey said. "You go up a mile, down a mile. It's hard to tell how you're doing. You just have to run comfortably. The elevation didn't bother me that much. Sometimes it seems like the air is thinner up here, but today, I didn't notice."
Bailey traded the lead with Chiloquin's David Moreno through the first 16 miles of the race around Sun Notch.
"It pulls you along to see someone close to you," Bailey said. "We were battling pretty good. He'd take the lead, then I would go ahead. I helped us."
Bailey was able to distance himself from Moreno on the long downhill stretch of The Pinnacles Road. By the time Bailey reached The Grayback Turnaround, one final grueling, 2.2 mile stretch of uphill before the finish chute at Lost Creek Campground, he had amassed a three-minute lead over Moreno.
"I knew that if I could get under three [hours] I'd have a chance at winning it." Bailey said.
Bailey ran no slower than an 8:19 mile split, and his final two mile splits were 5:38 and 5:37, respectively.
While on the infamous turnaround, eventual runner-up Toby Pearce-Smith ran down Moreno.
"I was surprised to even see anyone," said Pearce-Smith, who ran his first marathon in two decades. "At the Cloud Cap, they were about two-and-a-half minutes ahead. In these, you don't really change places often."
Pearce-Smith came in a 3:08:32.
"The downhill is really nice," Pearce-Smith said. "That's when you tend to hit "the wall." What I did was come here yesterday and stash some energy gel packs at the ten-mile mark and 20-mile mark."
Neil Zing was the next local finisher, coming in at sixth place in 3:25:46. Klamath Falls' Jeff Sparks was 12th in 3:45:22.
Margie Retterath gave Klamath Falls a clean sweep in the marathon, as she won her second straight gold medal in a time of 3:48:46.
"It's just as bad as I remember last year," Retterath said. "I had hoped to be able to run the whole way, but there's just no way. It's better to walk a little bit than keep running and deal with cramps."
Retterath was 15th overall, but more impressive, she ran in a veritable no-man's land. She trailed the 14th place finisher Chris Doyle by one minute and was an entire four minutes ahead of 16th place finisher Vern Latta.
"I didn't run with anybody," she said. "That's why I was so surprised when I got to the halfway point and they said that I was the first woman."
Her next nearest female competitor was Sara Norman, who finished in 21st in a time of 4:09:46.
Retterath has completed 12 marathons, but calls the Crater Lake Rim Runs and Marathon the toughest.
"It's way tougher than anything," she said. "The next toughest would be the New York Marathon. Whoever designed that last part of this one is masochistic."
Her personal best in the marathon came at the 1998 Portland Marathon, where she ran a time of 3 hours and eight minutes.