Print Friendly
Look up – Skies above Crater Lake are clear, too
Herald and News
Klamath Falls, OR
September 25, 2003
For more than 100 years Crater Lake's blue waters have been regarded as a world wonder.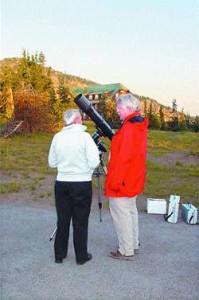 Owen Hoffman sets up a telescope for sidewalk astronomy along Crater Lake's rim near the Crater Lake Lodge.

Now Crater Lake is ranked by the National Park Service as one of the system's top 10 spots for star-gazing.
The park service's "dark sky team" said the absence of light pollution from cities and suburbs provides excellent conditions for amateur astronomers.
Owen Hoffman, a former Crater Lake park ranger and member of the Crater Lake Institute, said Crater Lake and other national parks are "also major destinations for tourists in general, many of whom have little knowledge of the night sky. Thus, a perfect opportunity is created in national parks for the public and the amateur astronomer to meet."
Hoffman said that when amateur astronomers share their time, knowledge and equipment with a public curious enough to stay out after dark, the activity is often referred to as "sidewalk astronomy."
Sidewalk astronomy was a focus last month of the Crater Lake Institute, a non-profit public service organization formed in 1995 by former park ranger-naturalists. Hoffman said the event was especially popular with guests of the Crater Lake Lodge, including many first-time star watchers.
Hoffman said the Crater Lake Institute encourages amateur astronomers to "serve in our outstanding natural areas as volunteer sidewalk astronomers and promote public enjoyment of dark skies above our sacred lands."
– Lee Juillerat
On the Net: www.parktrust.org/parklandnews/articles/DarkNightSkies.htm.