Print Friendly
Lost at the lake
Herald and News
Klamath Falls, Oregon
November 17, 2004
By LEE JUILLERAT
Three Klamath Falls teenage snowboarders probably won't be totally surprised when they open their Christmas presents.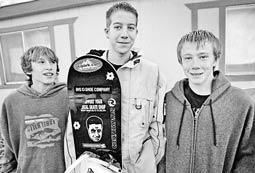 Justin Silva, 12, left, Donald Lucero, 16, and Coty Huard, 14, talk about their experience of being lost in Crater Lake National Park while snowboarding in the park's backcountry.
After spending Sunday night and early Monday morning cold and lost in Crater Lake National Park's backcountry, they're all planning to be better prepared with emergency gear – just in case.
Donald Lucero, 16, Coty Huard, 14, and Justin Silva, 12, who all live within a few blocks of each other in the Stewart Lenox area, were back at school today after recovering from an unplanned night in the woods.
The three were snowboarding at upper Dutton Creek near Rim Village Sunday when they became lost. A trio of park rangers, assisted by a team of other search and rescue volunteers, found the three boys late Sunday night and had them returned to their parents in the predawn hours of Monday morning.
"Yeh, really scared," admitted Silva, a Henley Junior High School seventh-grader, of being lost. "We were pretty sure we wouldn't get out that night. We were really, really cold and we all snuggled up together. We were just going to stay there until somebody came and got us."
He said he learned some important lessons, and has a GPS device on the top of his Christmas list.
"Next time I go snowboarding in the backcountry I'm going to have all my supplies in my big pack, including a GPS," Silva said.
Lucero, a sophomore at Mazama High, said he will be better prepared next time he goes backcountry snowboarding, like "having a big backpack with you with stuff that you need, like extra clothing."
Huard, an eighth-grader at Brixner Junior High, says he learned lessons in "common sense," such as "back-tracking your tracks, and not going farther. And dressing warmly. And carrying supplies."
All were happily surprised when they realized that searchers had located them. The three realized they were lost after riding boards down steep slopes that took them into park forest lands.
"We thought we were close to the road," Huard said.
The three believe they wandered several miles, walking through 2- to 4-foot-deep snow while carrying their boards. Sometimes they zigzagged, trying to find a place where the cell phone that Lucero was carrying would operate.
About 5:30, realizing they were lost with nightfall setting in, they agreed to stop and wait out the night.
Several hours later – rangers estimate it was about 11 p.m. – "We heard a couple of yells, but we weren't sure what they were," Lucero said of yells from the trio of park rangers – Pete Reinhardt, Steve Thomas and Scott Girdner.
His reaction? "Pretty happy," Lucero said. "We finally knew we could get out."
"We heard them, and we started yelling back," Huard said. "It was really relieving. We were freezing. We were really tired and sore."
When the boys were joined by the park rangers, who were carrying packs loaded with warm-weather clothing, snowshoes and other necessities, Silva's thoughts about a cool night were replaced with brighter prospects.
"I was happy. We knew we were going to get out."
The rangers provided the boys with granola bars and, more importantly, gloves, headlights, snowshoes and boots.
"It was pretty hard to walk in the snowboard boots," Silva said. "None of us were hurt. We were really cold and sore. They (the rangers) were really, really nice. They helped us out so much."
On the way back to the road, they met another search and rescue team that also offered them food.
At the road, they were checked by a medical team with the Chiloquin Volunteer Ambulance Service. More importantly, Lucero remembers, "the ambulance was warm."
He and the others were driven to park headquarters, where their parents were waiting.
"I've never been so happy to see an ambulance in my life," said his mother, Jen Silva. "When my son got out I was so excited."
"I hope no parent ever has to go through this," said Connie Matthews, Lucero's mom. "They (the rangers and other volunteers) were awesome."
"If it keeps another kid from getting lost," said Jen Silva, "in hindsight it's worth it."