Print Friendly
Lindgren, Hanlin repeat as Crater Lake Rim Run winners
Herald and News
Klamath Falls, Oregon
August 16, 2004
By STEVE MATTHIES
H&N Sports Writer
Liz Lindgren only wanted to see how well her summer training had been.
In the process, the 21-year-old Klamath Union graduate made Crater Lake Rim Runs and Marathon history in becoming the first person to win an event three straight years.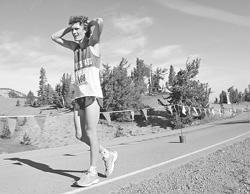 H&N photo by Ron Winn Trevor Hanlin from Grants Pass raises his arms after winning the 13-mile event at the Crater Lake Rim Runs Saturday.
Lindgren won the women's 6.7-mile run Saturday in 39 minutes, 56 seconds, and was second overall in the race, finishing behind former high school teammate Jimmy Addison, who won the race in 39:33.
"It's always fun to come up here and see where you're at and to see where you have to be at," Lindgren said in a final race before she returns to Arizona State University, where she has two years of eligibility left.
"I was hoping for a little faster time," she said.
"This is a good fitness test, but I beat myself up this week. I'm not used to all of the extra physical stuff."
Over the last week, Lindgren climbed Mt. Thielsen, water skied and played tennis.
"I would rather have beaten the time record, but that's OK," she said. "(Becoming the first person to win an event three straight years) is cool. But the uphills killed me."
Lindgren, Addison and Trevor Hanlin ran together most of the early part of the race that included a 13-mile run and marathon, the 29th annual races held at Crater Lake National Park.
"It was nice to share the run with people I know," Addison said as he gained his first ever Crater Lake victory, this in his second appearance in the only races of their kind in a national park.
Lindgren, Addison, Hanlin enjoy romp together in park; four get first victories
"The downhills were nice," he said.
Addison, who will be a senior at Oregon Tech, was running with Hanlin until the last uphill climb that faced runners in the shortest of the three events.
"I was running with Trevor and my calves started to cramp up a little," Addison said. "This will be my last year at Oregon Tech, so I didn't want to injure myself.
"But, I felt good. I'm finally in good shape."
Addison had planned to run the 13-mile race with Hanlin, but the stiffness in his calves forced him to finish early.
Hanlin, meanwhile, went on to defend his 13-mile championship and joined Lindgren as the only repeat winners from a year ago. He finished second two years ago before getting his first win last year.
"This is the longest run I've done this summer," Hanlin, who graduated from Grants Pass High School this spring, said. "I like this race. It's a tough race.
"It's challenging, mentally. You run the hills and think they will never end. And, just when you think it will, there's another hill to the end."
The last five miles of the half-marathon is almost totally uphill, a long, gradual incline that has scared many a runner over the years.
Hanlin, who will attend the University of Puget Sound in Tacoma, Wash., in the fall, clearly favors the longer races, however, and said he gladly would leave the shorter events to quicker runners.
"I do better at longer distances," he said, and won this year's race in one hour, 23 minutes, 53 seconds.
But, he did enjoy running with Lindgren and Addison.
"We were running together until the first hill," Hanlin said of himself, Lindgren and Addison. "I waited a little on the downhill to run with them, but, on the second hill, I had to pull away to keep my pace going.
"I really liked the race this year. For the first time, I got to look out over the lake and I actually saw the orange cones (marked as mile posts) this year.
"Last year, the only ones I remember were at six, eight and 11 miles."
Addison, who was running at Crater Lake for the second time, and finished third in the men's 13-mile race a year ago, was one of four first-time winners this year.
Lorilynn Bloomer won the women's 13-mile race in 1:36:23, and finished fourth overall.
Michael Bergquist won the men's marathon in 3:04:20, while Laura Bleakley was the women's winner in 3:40:36. Bleakley was sixth overall in the marathon.
Bloomer, Bergquist and Bleakley were running at Crater Lake for the first time.
"I've never run at someplace as beautiful as this, but the altitude was a challenge," Bloomer, of Beaverton, said. "I felt great until we ran uphill non-stop.
"The higher we got, the tougher it got. I waited for any break possible, and it never came. I've never run at this kind of altitude before. I usually train for shorter (races)."
CRATER LAKE CLIPS – In the marathon, Chiloquin's David Moreno had the lead at the halfway point, but faltered over the second half of the course and finished 11th … Martin Balding of Susanville, Calif., completed his 26th marathon, and wore race No. 26 … Bob Dolphin of Renton, Wash., in the 70-over men's division, completed his 342nd career marathon, and is expected to reach 350 before the year is over … John Lippard finished 90th overall in the marathon, but his finish will allow him to join the 50 States Club, for having completed at least one marathon in all 50 states and the District of Columbia … there were a number of runners, including Dolphin, who are members, in Saturday's races … Brenton Floyd of Harrison, Tenn., struggled to finish the race, but is the youngest member of the 50 States Club, having turned 19 years old in April … Oregon state Sen. Frank Shields, who helped start the Crater Lake Marathon in 1976, served as starter for this year's event.