Print Friendly
Officials hold dedication for 500-mile scenic byway
Herald and News
Klamath Falls, Oregon
October 15, 2004
By LEE JUILLERAT
MT. SHASTA CITY – Dedication ceremonies for a 500-mile "linear community" that passes through Klamath and Siskiyou counties were held Thursday at the future site of a visitor center.
Last year, the 360-mile long segment of California's Volcanic Legacy Scenic Byway was named an All American Road. It connects in with the Oregon section, which earned All American Road status in 1998. The combined route begins near Crater Lake National Park, travels around Mount Shasta and ends near Lassen Volcanic National Park.
Thursday's celebration was held at the former Roseburg Lumber Co. mill site, which was donated to Mt. Shasta City after the mill's closure. The city is providing 10 acres, with expansive views of Mount Shasta and the Scott Mountains, for a future discovery center.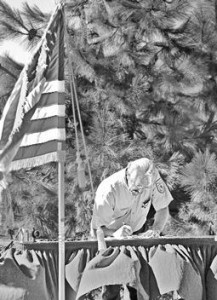 Dave Menke, representing the Klamath Basin National Wildlife Refuges, signs a memorandum of understanding at Thursday's dedication ceremony for the Volcanic Legacy Scenic Byway All American Road.
"Now that we've got it done we need to go out and do the work. It isn't like people are just going to throw money out their car windows," said John Halligan, interim president of the Volcanic Legacy Community Partnership.
The group, working largely through the Ore-Cal Resource and Conservation Development Council, based in Dorris, hopes to obtain various grants to promote the All American Road.
Christina Lillienthal, who promoted the idea of All American Road status in 1995 while working for the Winema National Forest in Klamath Falls, was the main speaker. Lillienthal, who now works for the Umpqua National Forest, predicted that publicity will attract travelers – and stimulate economies in communities along the route.
Saying the route is unique because of the "undeveloped nature and and faraway places along the byway," Lillienthal insisted "we need to share and value it with other people."
Among people signing a memorandum of understanding committing 38 various federal, state, county organizations and other agencies was Klamath County Commissioner John Elliott.
"It's going to be incumbent on us to capitalize on this increased trade," Elliot said. "We're going to see people from the entire world."
Elliott said the sights along the entire 500-mile route are varied and diverse.
"Until people see this entire 500-miles, they don't know how blessed we are," he said.
Todd Davidson, the Oregon Tourism Commission's executive director, said the multi-agency, two-state effort is part of Oregon's efforts to "drop geopolitical boundaries and market Oregon."
"It just makes sense," Davidson said of coordinated promotion efforts. "We're here to market this region. We're not competing with other states for tourism, we're competing with the world. It's an opportunity to promote the U.S. West Coast. We can put this region in front of the traveling public."
Among Klamath Basin agencies participating in the ceremonies were representatives from the Oregon Department of Transportation, Crater Lake National Park, Lava Beds National Monument, Bureau of Land Management's Klamath Falls office, Klamath Basin National Wildlife Refuges, city of Dorris, Modoc and Fremont-Winema National Forests, city of Tulelake and Siskiyou County Supervisor Joan Smith.