Print Friendly
Teens rehabilitate trails near Crater Lake
Herald and News
Klamath Falls, Oregon
August 18, 2005
STUART FALLS – Waterfalls are like magnets.
Why else would a crew of a dozen teenagers doing trail work in Crater Lake National Park's backcountry willingly hike two miles to gobble lunch in the shadow of Stuart Falls, then reverse the trek – a steeply uphill walk – to spend the afternoon widening the path, pulling out exposed rocks and replacing them with dirt fill, trimming limbs and other sweat-inducing tasks.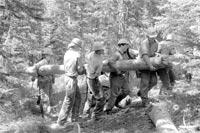 Members of a Northwest Youth Corps crew team up to move a log Tuesday while working on the Stuart Falls Trail near Crater Lake National Park.
For a dozen members of the Northwest Youth Corps, taking a lunch break Stuart Falls was part of the experience in learning to appreciate the region's backcountry.

Stuart Falls is located in the far north end of the Sky Lakes Wilderness Area, just barely south of the park. It's one of the prettiest places in the region. Kelly Cadigan, who serves as crew leader, said Cheri Killam-Bomhard, who has overseen this summer's trail work, especially wanted the crew to see and appreciate the falls because the summer work is intended to be more than job.
"We do something educational every day," Cadigan said, noting that can range from learning about geology, climate change, water quality, group dynamics, and job interviewing skills to simply experiencing and enjoying special places.
Over the past three weeks, Northwest Youth Corps crews have been rehabilitating the Stuart Falls Trail and re-contouring the Pumice Flats Trail. Both trails are used by Pacific Crest Trail hikers and day hikers and backpackers focusing on the falls and the nearby Red Blanket Creek Trail. In comparison to the heavily used sections of trails near Bend, these trails are lightly traveled.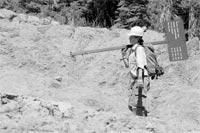 A member of the Northwest Youth Corps carries a sign bearing the distances to Pacific Crest Trail, Mazama Campground, Dutton Creek and Rim Village, to be erected.

Stuart Falls is a special place because its cascading falls are beautiful and, more practically, because it's one of the region's few sources of water.

Crew members hiked to the falls Tuesday, but not just for lunch. Because of the scarcity of water, they loaded three 5-gallon containers, which weigh 40 pounds each when filled, and several smaller containers to pack back to their camp near the junction of the PCT and Pumice Flat trails.
To beat the heat, wake-up time is usually about 5 a.m. Following a quick breakfast, the crew is "on the clock" about 6 with a "safety circle" aimed at preventing accidents and other mishaps. From their camp, nearly three miles from the Pumice Flats trailhead, it's 1 1/2 to 2 miles to their work site on the Stuart Falls Trail. The falls itself is a 3-mile hike from the PCT.

Cadigan said the work varies from site to site. Along with routine trail maintenance, crews cut back bushes or trees, build rock bridges and walls, improve drainage and do habitat restoration.

On the return trip from Stuart Falls, one crew member toted a metal sign while another loaded stakes used to mark the realigned trail into a backpack. As a team, the crew hoisted and relocated a tree that had fallen across the trail.
"It's been hard job, but I've learned a lot," said Matt Robinson, one of the crew members.
Youth Corps workers range between 16 and 19. The Crater Lake crew includes several from the Willamette Valley along with a sprinkling from Boise, Spokane and Bellingham, Wash.

Before the work week ends, and the crews move to another location, Cadigan said they will finish upgrading rocky stretches of the Stuart Falls Trail, especially near the falls.
For future hikers, getting to Stuart Falls won't be a shorter hike, but it will be safer.