Print Friendly
Anniversary: Altorfer – 50 years
Herald and News
Klamath Falls, Oregon
November 20, 2005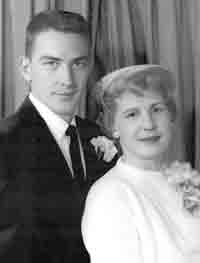 Arthur Paul Altorfer and Kathryn Louise (Bidge) Wampler 50 years ago.
The children and grandchildren of Arthur Paul Altorfer and Kathryn Louise (Bidge) Wampler will host an informal reception from 1 to 4 p.m., Saturday, Nov. 26, for their 50th anniversary at the Ragland Cultural Center, 218 N. 7th St.
The Altorfers were married Oct. 29, 1955 in the First Methodist Church in Reno, Nev.
Mr. Altorfer came from Pennsylvania in 1952 to work at Crater Lake National Park. His future wife also was employed during the summer for the Park Service. They met at a street dance at Fort Klamath. That fall he returned home to Pennsylvania and entered the U.S. Army. In1955, he returned to Oregon where they met again and were married that fall.
Both attended Oregon State College. After the birth of their son, Paul, they returned to Klamath Falls where Mr. Altorfer graduated in engineering and surveying from Oregon Institute of Technology.
Their daughter, Margie, and son, Tom, were born in Klamath Falls before the family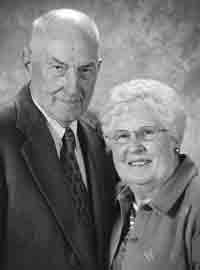 Arthur Paul Altorfer and Kathryn Louise (Bidge) Wampler today.
moved to Rio Vista, Calif. Mr. Altorfer was an engineer and supervisor for many subdivisions, golf courses and levy projects in the Bay Area.
In 1969, the family moved back to Klamath Falls and was involved with Paul and Robert Wampler logging and ranching. Several years later, the Altorfers formed Liberty Timber Company, which they operated until developing their home property into Beautiful Trees Nursery and Barnyard Antiques. The nursery was later sold to Plantscapes of Oregon, and they now operate Barnyard Antiques in a small cabin next to their home.
The Altorfers' children and grandchildren are Paul, Lisa, Lindsey, Madison and Macy Altorfer of Boise, Idaho; Tom, Kim, Ashley, Brooke and Cassie Altorfer of Yuba City, Calif. and Margie and Sterling Altorfer of Klamath Falls.
It is requested that there be no gifts, but all friends of the Altorfer family are invited to stop by to visit.