Print Friendly
Rim runs, marathon an oxymoron
Herald and News
Klamath Falls, Oregon
August 15, 2005
CRATER LAKE NATIONAL PARK – There's an oxymoron up in them there hills.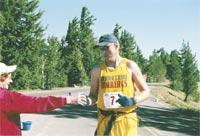 Eric Jensen of Athena, one of many MarathonManiac members to compete in Saturday's Crater Lake Rim Runs and Marathon, takes a glass of water from Kathy Miles, one of the almost 140 volunteers to help with the event.
As it has for 29 years previous, the Crater Lake Rim Runs and Marathon challenged, literally and figuratively, runners from around the United States, and the world.
"Beautiful and brutal," Tony Hawkes said after he became just the third Klamath Falls resident to win the marathon, joining Al Glidden (a three-time winner) and Randy Bailey.
Those words have been echoed by runners, especially of the marathon and 13-mile race, for years, and were often repeated at the end of those events Saturday.
"We came up to run and to see the lake," Lachelle Crotteau of Bend said after she was the first woman to finish the half-marathon race, one her fiance, Brand Layne, won.
"We heard what a beautiful place it was, so that was a good excuse to come here and run. The beauty just keeps you going."
Hawkes said he had wanted to run the marathon at Crater Lake, and has completed all three events now, but said he was "apprehensive" about the 26-mile, 385-yard marathon.
"The course is the challenge, not the time (one finishes the race in)," Hawkes said.
The first woman to complete the marathon was Annie Thiessen of Tacoma, Wash., one of many runners in Saturday's longest race who belong to the MarathonManiacs.
"It's really hard," Thiessen said of the Crater Lake marathon. "It's one of the top five toughest courses in the country with all the climbing and then the terrain in the finish area.
"The beauty motivates me to stop and take pictures."
Thiessen was one of more than a dozen runners who had throw-away cameras or video units who would stop along the course and film the background scenes of the lake along the course.
A number of runners mentioned how difficult the altitude of the race is.
"If you ran a flat marathon in altitude, you might be able to tell how much it affects you during the race," Thiessen said. "But, it's really hard to say because most marathons run in altitude are usually hilly, so you can't say."
Thiessen was one of the few MarathonManiacs who did not wear one of the club's shirts during Saturday's race.
To qualify for membership, a runner must complete three marathons in three months and, then, there are what Thiessen called "degrees of difficulty" within the club.
There were members of group, which numbers more than 170 from around the country, who are working on running a marathon a week during 2005.
Most members also are part of the groups that have completed a marathon in all 50 states, or have completed 100 career marathons.
"Once a Maniac, always a Maniac," Thiessen said.
€ € €
Hawkes, who did not start running until he was 29, qualified for the Boston Marathon earlier this year when he set his career best during a run in Newport, and he plans to run the April 3 Boston race in 2006.
"Both my parents run," Hawkes said, and noted that they were in the 6.7-mile race Saturday. "When my Mom qualified for Boston when she was in her 40s, I figured I had the genetics and had better try to do it, too."
€ € €
Bob Dinsmore of Poughkeepsie, N.Y., and Digna deBoer of Tucson, Ariz., finished the marathon in almost five hours, but it was their T-shirts that drew attention.
Both had blue T-shirts with yellow letters: "Recycled Teenager."
Dinsmore is 66 and deBoer 56.
"Whoever designed this course is verifiably insane," Dinsmore said. "But, it's a beautiful setting and the best marathon we have been to. It is really well organized and everyone is really friendly."
It is those kind of comments that have helped draw a lot of attention in the only road races contested inside the boundaries of a national park in this country.
Not many people knew all of the final-week battles race director Bob Freirich and others had to go through thanks to an internet provider and problems related to the final 40, or so, entries.
Those problems, though, were easily handled.
When the race started, it had the full complement of 500 runners, the maximum allowed under the agreement between the sponsoring Linkville Lopers and the U.S. Park Service.
RACE RAMBLINGS – Tony Phillips of Tacoma completed his 99th career marathon Sunday, and was scheduled to run Sunday in Bend … most of those events have been run in sandals … Laurel Ramsey of Portland completed Saturday's marathon on his 51st birthday, and wore race No. 51 … Martin Balding, of Susanville, ran a comfortable race Saturday, the 27th Crater Lake marathon he has completed, and he wore No. 27 … in addition to Oregon, Washington, California, New York and Arizona, other runners in Saturday races were from Minnesota, Georgia, Maryland, Wisconsin, Idaho, Virginia, Nevada, Illinois, New Jersey, Iowa, Michigan, Missouri, Wyoming, Utah, Florida, Indiana, Tennessee, Colorado, North Carolina, Pennsylvania, Texas, Connecticut, South Carolina, Nebraska, Montana, Maine and Hawaii … other countries that had runners in Saturday's 30th annual event were from Germany, Iceland, Scotland and Canada.