Print Friendly
Longtime Crater Lake ranger retires
Herald and News
Klamath Falls, OR
September 02, 2005
CRATER LAKE – Kent Taylor is leaving Crater Lake National Park after 19 years of living and working at the park. But many of the amazing park collectibles he's gathered are staying behind.
When the 55-year-old Taylor retires today and moves to Massachusetts to spend time with his father and other family, he'll leave a collection of historic hand-colored photos and hundreds of postcards, along with cartons of park guides and memorabilia dating back to the early 1900s.
Around the park, it's simply known as "The Taylor Collection."
"The park did not have much of a collection when the Crater Lake Lodge exhibit was built," he said. "Next time they will. When somebody wants to do a book about the park 30 years from now, these will all be more than 100 years old."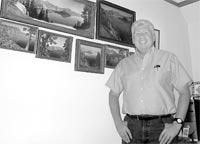 Kent Taylor poses with some of the historic hand-colored photos he's donating to Crater Lake National Park.
Taylor moved to Crater Lake in September 1986 from Fort Vancouver National Historic Site in Washington. For his first 15 years he served a chief of interpretation. Five years ago, as budgets for interpretation shrank, he switched jobs and became chief of administration.
Taylor was born and raised in Massachusetts and graduated from the University of Massachusetts in 1972 with a degree in European history. He taught high school biology for a semester before joining the National Park Service.
At Crater Lake, Taylor helped prepare for the reconstruction of the Crater Lake Lodge. He was among the key people who decided lodge furnishings and the lodge exhibit.
"I think he has meant a great deal to the park," Superintendent Chuck Lundy said. "He helped to develop a cultural resource branch that's been valuable. The work he did in association with the lodge may be one of the long-lived projects."
For Taylor, the future is mostly uncertain, except that he won't be wearing his ranger uniform.
"For more than 25 years I didn't even have to worry about my wardrobe," he said. "I don't really know where I'll settle permanently. I haven't really committed to what I want to do long-term."
He said he regrets leaving the lake.
"I guess I take it for granted," he said. "For me it's been home and, well, just a beautiful, mysterious thing.
"The lake is the touchstone for the job, and it's home, and I'm leaving here."
"People ask me what I want for my going away," Taylor said, chuckling. "I tell them not to give me a picture of Crater Lake. I have enough."