Print Friendly
Winter fun at Crater Lake
Ashland Daily Tidings
Ashland, Oregon
January 6, 2005
By VICKIE ALDOUS
The 500 inches of snow that falls annually at Crater Lake National Park drives away the summer crowd, making now the perfect time to enjoy snowshoeing in the winter solitude.
For the snowshoeing novice, traveling on the webbed devices is as simple as walking, and requires about the same level of exertion as walking in sand.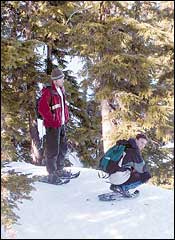 Evan hobbs (left), 23, of ashland, and Adam Crossly, 23, of Eugene, take a break from snowshoeing at Crater Lake in December. The national park offers free guided snowshoe trips every weekend in winter. Photos by Jennifer Squires | Ashland Daily Tidings
However, additional care is needed when snowshoeing at the park.
"The biggest safety tip is to remember that it's much, much harder to breathe at higher elevations," said Martha Hess, Crater Lake National Park assistant chief of interpretation. "It's 7,100 feet at the rim. Your body is not used to that. It's hard on your heart and for breathing. Be careful not to overdo it."
The beautiful views are well worth some extra huffing and puffing. But remember to stay well back from the caldera rim, which can become hidden by deceptive snow overhangs that collapse unpredictably, according to park rangers.
"Never go close to the rim to get a better view of the lake. The problem is snow cornices. We've had people die from doing that," said Hess.
From Thanksgiving until the end of March, park rangers and volunteers lead winter ecology snowshoe walks on Saturdays and Sundays. Participants can learn how animals and trees have adapted to survive the nine-month long winters at the park.
Meet at 1 p.m. in front of the Rim Village Visitor Center cafeteria.
Snowshoes are provided for free. Reservations are not taken, but large groups should call ahead. Children must be at least nine years old because of the size of the snowshoes. The one and a half-hour snowshoe walks rarely fill up, according to park rangers.
Visitors can guarantee that they will have snowshoes for a Crater Lake excursion by renting a pair from a local outdoor store before departing.
The Ashland Outdoor Store rents snowshoes for $10 the first day and $5 each additional day, with optional poles provided for free. McKenzie Outfitters in Medford rents snowshoes for $10 a day or $20 for a weekend.
Bringing your own pair also allows you to venture out on your own.
Wear waterproof boots, snow pants and layers of clothing on your upper body. Bring food as well as plenty of liquids.
For weather and road condition information at the park, call 594-3000.
Current information, including the forecast and road conditions, also is available on the Internet at www.nps.gov/crla/crlaci.htm.
Call 594-2211 ext. 401 for group snowshoe walk reservations at the park. The regular entry fee is waived during the winter, Hess said.