Print Friendly
'The Good Fire'
Herald and News
Klamath Falls, Oregon
September 25, 2006
The German couple stood at Union Peak overlook on Rim Drive and watched a plume of smoke rising miles off to the west.
He pointed. They talked. Then she pointed to another spot where fire was smoldering less than a mile away.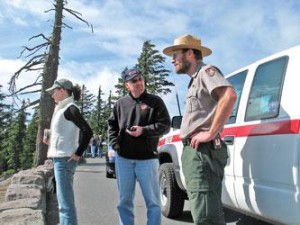 George Brand of Germany, center, talks about fire management with Crater Lake's Brad Reed while Brand's wife, Claudia, watches smoke plumes from a fire in the distance. 

H&N photos by Steve Kadel
Park fire management officer Brad Reed knew what they were thin
'The Good Fire'
Herald and News
Klamath Falls, Oregon
September 25, 2006
The German couple stood at Union Peak overlook on Rim Drive and watched a plume of smoke rising miles off to the west.
The man, George Brand of Bavaria, who spoke excellent English, asked if Reed knew about the fires. Reed just smiled. He's gotten that question every day for the past two months.
He explained fire has beneficial effects for the land and wildlife, and that these fires were under control.
"Nature's regenerating itself as we speak," Reed said.
The Germans nodded.
"We were surprised seeing fire along the road," Brand said.
Herding the fires
The smoke has been visible in Crater Lake National Park since July 23, when the first of two lightning-caused fires ignited. The second sparked on Aug. 7. They merged Aug. 11 and gradually moved northeast. The combined blazes covered about 3,000 of the park's 150,000 acres of land, although not all the terrain was blackened.
Instead, the fire burned hot in some places and not in others, depending on how much dead wood was on the ground, which tree species were encountered, and other factors. Firefighters set lines to allow the fire to move north and east.
"We herd it where we want it to go," Reed said. "We dug a fire line and herded it up to the Pacific Crest Trail and used that as a holding line. We chose the PCT because it already existed." The resulting mosaic will create several different habitats, allowing diverse vegetation for cover and browse for animals. Dead plant material becomes nutrient for the soil. Nitrogen from ash is a fertilizer, prompting seeds to sprout.
"We've created a nice patchwork here," Reed said. "All we've done is mimic the past."
Mules help firefighters
As of Friday, fire crews from the U.S. Forest Service and other assisting agencies left Crater Lake, allowing park staff to monitor the dwindling fire. "It's pretty much put to bed," Reed said.
At its closest, the fire came within 20 yards of Rim Drive. Firefighters hosed the ground near the road then.
Crews also monitored the fire's movement so smoke wouldn't engulf Rim Village. About 150 firefighters were on hand at the fire's peak, although a team of just 20 battled it for at least a month.
They used six miles of hose brought in via helicopter or mules, along with food and other supplies. "The old way is good," Reed said, referring to the mules.
Special attention was given to Lightning Spring Campground. There, hoses were spread around the area to block the fire's advance.
"We want to prevent snags in the developed sites, so we took action there," Reed said. "We also closed the (rim) road a couple of times just to quell things, and prevent snags next to the road."
Controversial practice
The science of fire management makes sense to many people, including some conservation groups. For example, Reed said Friends of the Umpqua takes a let-it-burn stance.
A husband and wife from the San Francisco Bay Area visited Crater Lake in August, hiking to the top of Garfield Peak on an especially smoky afternoon. It's too bad their visit coincided with the fire, someone told the woman.
"Oh, that's OK," she replied. "We travel in the West a lot during summer. Fire is natural."
But others disagree, expecting every fire to be extinguished as fast as possible, Reed said.
Often they're retirees who have moved to Oregon from other states and are upset about smelling and seeing smoke, said Al Augustine, fire management officer for Lava Beds National Monument.
He said Lava Beds used fire as a management tool for the first time this summer. It worked well on the 27-acre blaze, Augustine said, and gave park personnel a chance to work with neighboring agencies such as Modoc National Forest.
Reed said the Bybee Complex of fires has burned each summer for the past few years. This year's fire, which was one of the largest ever managed in the park, burned into four previous Bybee fire areas.
"In the history of fire in the park, the Bybee Complex Fire will go into the archives as one of the more successfully managed naturally occurring fires," Reed said.
Besides regenerating portions of the park, the fire will give researchers much information to study, particularly the effects on mountain hemlock.
"We're already thinking about the many research focuses the fire will provide us," Reed said.
Stories and photos by Steve Kadel