Print Friendly
Walking on Crater Lake
Herald and News
Klamath Falls, Oregon
February 21, 2006
By LEE JUILLERAT
Not many people walk on water, especially on Crater Lake.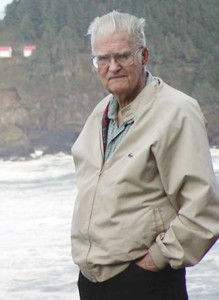 Duane Fitzgerald.
But Duane "Do-We" Fitzgerald did.
It was March 14, 1949, when Fitzgerald, Crater Lake National Park's acting chief ranger, and George Ruhle, the park's chief naturalist, climbed down the caldera walls and walked across the frozen lake to Wizard Island.
"I knew that come summer we were going to get questions about how deep the ice was," recalls the 91-year-old Fitzgerald.
Fitzgerald, who has lived in Corvallis since the early 1950s, remembers the day and reason for the never-duplicated walk: "People had heard the lake was frozen, and it was the first time that it ever had as far as we knew."
Historically, Crater Lake does not freeze because of its depth – it is nearly 2,000 feet at its deepest point.
But during the winter of 1948-49, a combination of occurrences, including temperatures that stayed below zero for several days, allowed the upper levels of the lake to freeze. It's the only known time the lake has been completely frozen.
Ruhle wrote about the walk in the September 1949 issue of the park newsletter, "Nature Notes."
"… the lake not only was completely covered by a sheet of ice, but this ice was strong enough to support a significant blanket of snow. For over three months, from mid-February to mid-May, park visitors beheld a white expanse in place of the sapphire sea so justly famous."
Ruhle's story, which was reproduced in the 2002 issue of the Shaw Historical Library Journal, "The Mountain With a Hole in the Top: Reflections on Crater Lake," has been told before.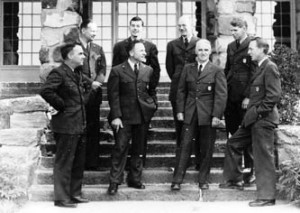 Photo courtesy Crater Lake National Park Museum & Archives CollectionsDuane "Do-We" Fitzgerald, third from left, gathered with other Crater Lake rangers in 1941. George Ruhle, who accompanied Fitzgerald on the 1949 frozen lake walk, is shown at far right.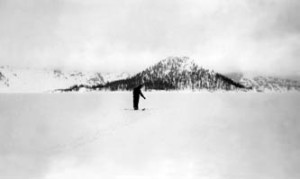 Photo courtesy Duane Fitzgerald family
Duane Fitzgerald was photographed walking on cross country skis on the frozen, fog-shrouded lake by hiking partner George Ruhle March 14, 1949.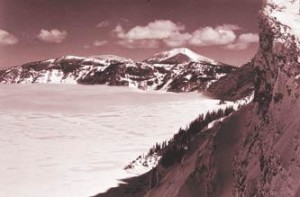 Photo courtesy Crater Lake National Park Museum & Archives Collections
Crater Lake as it looked during the winter of 1949 when it was completely frozen —the only known time in park history.