Print Friendly
'Frustrating' search
Mail Tribune
Medford, Oregon
October 18, 2006
By Bill Kettler
Crews scour Crater Lake surroundings for sign of boy, 8, missing for 4 days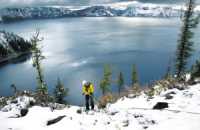 Jason Ramsdell of Yosemite Search and Rescue rappels down the side of the Crater Lake rim near the spot where Samuel "Sammie" Boehlke of Portland was last seen. Ramsdell was among about 125 searchers.
Horsemen, mountain rescue squads and searchers with dogs combed the north rim of Crater Lake Tuesday, still hoping to find some sign of Samuel Boehlke, the 8-year-old Portland-area boy who became separated from his father Saturday.
"We've got nothing we can hang our hat on," said Frank Kral, coordinator of the canine search-and-rescue program for Jackson County Search and Rescue. "It's been very frustrating."
Rescue specialists from as far as northern Washington and Southern California gathered at Oregon's only national park to look for the boy known as "Sammie."
"We've got the entire West Coast helping us," said Dave Brennan, chief ranger at Crater Lake National Park.
Brennan said Sammie walked away from his father and disappeared into some trees while they were stopped at a viewpoint near Cleetwood Cove, where tour boats are based during the summer. Sammie's father, Ken Boehlke, searched for some time, then flagged down a motorist who summoned help.
Foul weather that frustrated searchers Sunday and Monday finally lifted, allowing a helicopter to fly near the water's edge, and rappelling crews from Yosemite National Park worked their way down the steep walls of the caldera looking for any sign of Sammie.
The boy was last seen wearing a long-sleeved black-and-green striped T-shirt, cargo pants, and red suede slip-on shoes with rubber soles. Brennan said the boy had no special training in wilderness survival.
Brennan said Sammie has shown some behaviors that are consistent with low-level autism, but has not been diagnosed as autistic and was not being treated for autism. "We're taking that into account," he said.
Six inches of snow covered the ground in the search area, and high clouds obscured the sun while search-and-rescue volunteers, U.S. Forest Service firefighters and Park Service staff criss-crossed the area around Cleetwood.
The tour boats had been winterized before Sammie disappeared and were unavailable for the search, said Pete Reinhart, Crater Lake's operations supervisor for law enforcement and emergency services. Park Service workers briefly put a small inflatable boat on the water Sunday but found nothing, Reinhart said.
The parking area for the boat tours was transformed into the command center for the search. Ten large tents with propane heaters were set up on the pavement to house searchers, and a portable generator provided power. Dozens of trucks from search-and-rescue teams and government agencies filled most of the parking lot.
A Park Service command team defined the primary search area at about 4,000 acres (about six square miles) in a rough semicircle with Cleetwood as its center. About 125 searchers were working the area, including elite "hot shot" firefighting crews from Prineville, Redmond and Prospect.
"We look under every bush and nook and cranny and log and everything else," said Randall Lehman, crew boss for the Prospect hot shot crew.
Searchers were walking through terrain mostly covered with mixed stands of lodgepole pine, Shasta red fir, mountain hemlock and whitebark pine. The ground varies from nearly flat to gently rolling, but there are house-sized blocks of lava and small precipices scattered throughout the area.
People touched by the boy's disappearance were calling Crater Lake National Park Tuesday to offer their help in the search, but the Park Service staff politely told them "No, thank you." "We appreciate people's interest," said Reinhart, the park's emergency services manager, but he noted that the search area's mountainous terrain, 7,000-foot altitude and wintry weather made it a place where only people with proper training should go.
Sammie's family issued a statement thanking searchers for their effort, but the family declined to talk to reporters, said Rudy Evenson, a public information officer for the National Park Service. Forecasters were expecting temperatures in the search area to drop into the mid- to low 20s again Tuesday night, the fourth night since Sammie went missing.
The fruitless search in the snow reminded some volunteers of a similar effort eight years ago just a few miles away. In December 1998, dozens of volunteers tramped through deep snow in search of Derrick Engebretson, an 8-year-old Klamath County boy who vanished while cutting a Christmas tree with his father.
That search ended after a week, when searchers could find no sign of the boy.
"This sure reminds me of Derrick," said Ernie Coffman, a search and rescue volunteer from Grants Pass. "That was another frustrating one."
Reach reporter Bill Kettler at 776-4492 or e-mail:bkettler@mailtribun e.com