Print Friendly
Survival of the fittest for our man in Patagonia
Mail Tribune
Medford, Oregon
September 30, 2007
By PAUL FATTIG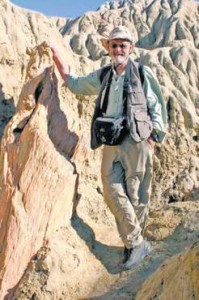 Frank Lang leans against a 65-million-year-old fossil tree in the heart of ancient Patagonia.
When it comes to gardening, retired biology professor Frank Lang employs a survival-of-the-fittest approach.
"It either survives or doesn't," he says of plants growing at his Ashland home. "If it doesn't, that plant gets jerked out and something else is planted.
"I have a Darwinian garden," he explains with a mischievous grin.
Lang, 70, knows something about natural selection. A pleasant fellow known for his dry wit, he is professor emeritus of biology at Southern Oregon University, where he taught for more than 30 years before retiring in 1999.
Lang is also a student of Darwin. He joined three other folks — all with a scientific bent — in traveling to Patagonia earlier this year to follow in the footsteps of the English naturalist.
His reflections on that trip along with his photographs, including mug shots of Magellanic penguins, will be presented beginning at 7 p.m. Oct. 9 in the Meese meeting room of the Hannon Library at SOU. There is no admission charge.
Darwin explored the Patagonian region on the southern tip of South America early in the 1830s, traveling by ship along the coast. He stopped at various points along the way to study biology, geology and anthropology. His reflections can be found in his classic 1839 book, "The Voyage of the HMS Beagle."
Lang's six-week sojourn, which began early in February, was in a Chevy van. Joining him were Steve Mark, a geographer who is the historian at Crater Lake National Park; Claude Curran, retired SOU geography professor; and Jerry Bakus, professor of marine biology at the University of Southern Califiornia.
They flew to Buenos Aires where they picked up the van that proved to be a tad small, particularly since it had to carry the mountain of camping gear they never used.
"It was about three weeks in to the trip before I started calling it the Bounty," Lang quips.
There was no mutiny but when you cover some 7,500 miles wedged in a small van, life became survival of the fittest.
Our travelers had hoped to reach Tierra Del Fuego on Patagonia's southern tip but didn't quite make it. Yet they made it to 51 degrees latitude as they drove south along the Argentine coast before heading north through the Chilean Andes.
"Following along where the Beagle had landed and reading along about what he thought of the steppes and other places, that was the greatest experience," he says. "Darwin was a wonderful, wonderful writer."
Lang is also talented when it comes to penning his thoughts about Mother Nature. He has written "A Nature Notes Sampler," an excellent book that captures his wit and wisdom.
The book is an offshoot of the naturalist's popular weekly "Nature Notes" program on Jefferson Public Radio.
The trip to Patagonia was reminiscent of one Lang took to Great Britain a couple of years.
"We visited Down House — Darwin's home in England," he recalls. "We walked the same places he walked and visited the exhibits.
"One of the most memorable things for me was walking in the evening — it had been raining — and a big angle worm came across the walk," he adds. "Darwin was one of the first great students of the earthworm. He wrote a wonderful treatise about angle worms."
Lang figures he had happened upon a possible descendant of the worms Darwin had studied.
The professor accepts there are Darwin detractors out there. Obviously, he isn't one of them.
"As far as I'm concerned, evolution is a fact," he says. "It's a fact. Period."
He allows scientists are still debating some of Darwin's finer points.
"But it seems to me there is a whole lot of evidence that supports Darwin's ideas about how species evolution occurs," he says.
Lang, who is no stranger to church services, says there is not contradiction to being religious and believing in Darwinism.
His favorite book in the Bible is Ecclesiastes, the book of teachings found in the Old Testament.
"To me, the basic message in that book is, 'This is your life. Live it the best you can,' " he says.
For him, following Darwin's footsteps into Patagonia was answering a higher calling. He recalls when they stopped in Patagones, a small town on the Rio Negro, where Darwin had spent some time.
"In his book, he describes places where houses were built into sandstone," Lang says. "There is one spot in town where you can see that. When I was there, it occurred to me that Darwin had walked in this exact spot."
Reach reporter Paul Fattig at 776-4496 or at pfattig@mailtribune.com