Print Friendly
Finding Your Winter Wonderland
Herald and News
Klamath Falls, Oregon
December 15, 2007
By LEE JUILLERAT
H&N Regional Editor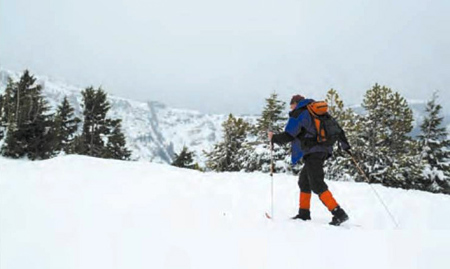 A cross-country skier cruises along a trail with Crater Lake and Wizard Island in the background. Despite a slow snow year, Crater Lake is at its wintery best.
It's Christmas vacation, the kids and family are ready to go so … where's the snow?
Don't expect to head out to Moore Park or test favorite neighborhood hills for sledding, tobagganing and cross-country skiing because the snow isn't there. More likely, it will be necessary to head to the Cascade Summit Sno-Park, Lake of the Woods, Fish Lake and, most dependably, Crater Lake National Park.
Depending on which weekend weather forecast you believe, it appears snow could be coming in the next week. Some forecasts predict a slight chance of snow today then a greater chance again Monday and Tuesday, while others point to later in the week.
Best Choices
For winter snowplay, the best choices are Crater Lake and the Lake of the Woods/Fish Lake area. Guided snowshoe walks are available at Crater Lake. Although the snowpack was still well below average, it's the best in the Basin. People snowshoeing with groups or on their own reminded to not use the cross-country ski tracks. Snowshoes destroy tracks set by skiers – and generate bad feelings.
For simple snowplay, check out the Annie Springs parking area just south of the Crater Lake entrance on the east side of Highway 62. Although snow is limited, there is enough for sledding. Trails that leave the area, which are used by snowmobilers and cross-country skiers, will only improve with some fresh snow.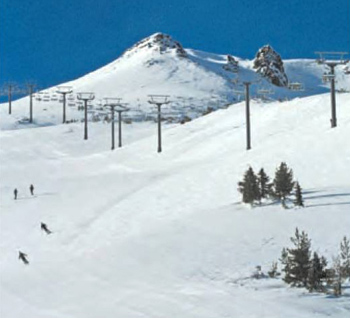 Photo by Paul Titus – Mt. Bachelor has plenty of snow for the skier or snowboard enthusiast. The ski area is open with limited lift service.
Sno-Park parking permits are required at many of the other high elevation areas, including the Cascade Summit Sno-Park near the Klamath-Jackson county line on Highway 140 about midway between the Lake of the Woods of Fish Lake. Because they're not available at the sno-park, buy a day or season pass before making the trip or you'll be slapped with a $30 fine. Season permits, which cost $20, are available at the Klamath Falls Department of Motor Vehicles office at 1909 Austin St. weekdays. Purchases can be made from the outside window.
Cross-country skiers have reported good skiing, especially as they gain elevation away from Highway 140. The Lake of the Woods Resort is closed for the winter, but people can grab cups of hot chocolate and meals at the Fish Lake Resort, which is open all winter. Owner Debbi Blodgett says the restaurant is open Fridays through Sundays, but cabins are available nightly and "the fireplace is always going." People without snow-park permits can park in the resort parking lot for $4 a day.
Permits also are required along Highway 58 atop the Willamette Pass. Although the Willamette Pass Ski Area is still closed, there is enough snow for cross-country skiing.
Marginal snowpack
Conditions also are marginal at Diamond Lake, where Diamond Lake Resort managers
reported only 3 inches of snowpack Friday afternoon with about 12 inches at 5,500 feet elevation.
"There's not much, but it's white," says resort spokesman Rick Rockholt.
If the snow situation improves – and, again, the forecast is somewhat optimistic – the resort offers cross-country ski rentals and eight miles of groomed trails and, even more popular with family, a tubing and snowboarding hill. For updated information call toll-free (800) 733-7593.
Most ski parks still closed
Downhill skiers and snowboarders need to look to Mt. Bachelor, which is open with limited lift services. Other regional areas – included the Shasta Ski Park, Mt. Ashland Ski Area and Williamette Pass Ski Area and the two community ski hills, Warner Canyon near Lakeview and Cedar Pass near Alturas – are closed until significantly more snow falls.