Print Friendly
Cycle Oregon: This year's tour includes Diamond, Crater Lakes
News-Review
Roseburg, Oregon
September 12, 2007
By ADAM PEARSON
CRATER LAKE — Cycle Oregon 2007 participants puffed and grunted Tuesday from Diamond Lake to Crater Lake, around the caldera's rim, and back to Diamond Lake again for the third leg of their nearly 500-mile journey.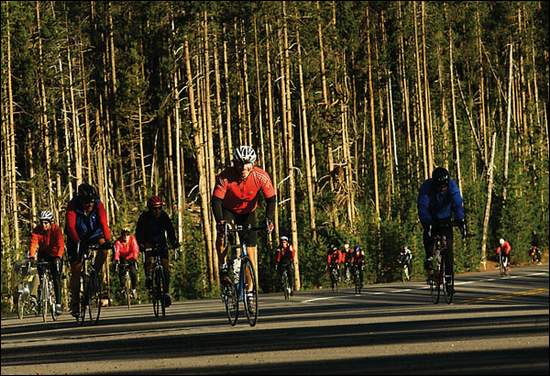 ANDY BRONSON / N-R staff file photo Cycle Oregon participants make their way up on Highway 138 towards heading toward Crater Lake Tuesday morning. JON AUSTRIA / N-R staff photo
About 2,200 cyclists decked out in neon jerseys and spandex shorts coasted Monday into Broken Arrow Campground on the south shore of Diamond Lake for an overnight stay. On Tuesday morning they leisurely departed in small and large groups, or individually, for the rim of Crater Lake, a 2,000-foot vertical climb about 15 miles away. But it only took a few miles into the 64.5-mile route, which included a clockwise bicycle ride around Crater Lake, for many cyclists to stop and peel off a layer or two of Lycra as the morning sun quickly warmed riding conditions.
At an organized stop near Merriam Point, with views of Mazama Rock to the east andWizard Island to the south, cyclists fueled up on baked potatoes and other carbohydrate-loaded snacks with Oregon's famous blue water glistening below them. Many seasoned Cycle Oregon veterans were relieved to have a splendid day ahead of them since the last time Cycle Oregon attempted the 33-mile ride around the rim in 2004, temperatures dropped below 40 degrees and sleet and wet snow closed the route.
Bruce Parker, 56, of Canby, said the rim ride has always been on his to-do list, especially since weather foiled his last attempt three years ago.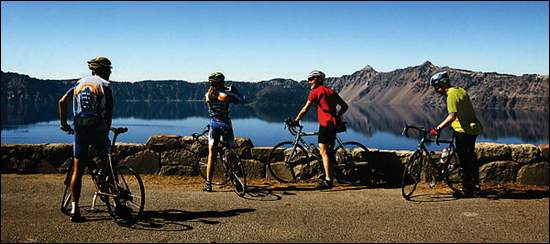 Cycle Oregon participants break at a rest area to take in the view at Crater Lake, Tuesday. JON AUSTRIA / N-R staff photo
Other riders from around the country and the world, however, were visiting Crater Lake for the first time, checking off a visit to the national park from their to-do list with a mixture of pleasure and pain.
I was trying to think of some words to describe it (Crater Lake), and I can't," said Brandi LaFluer, 43, of Dallas, Texas, who, with her husband, Todd, was visiting Oregon for the first time.
LaFluer said she was traveling with a group of about a dozen cycling friends from Dallas that included an Oregon native, who had insisted they participate in Cycle Oregon.
"The rest of us are all Cycle Oregon virgins," she said.
The weeklong event began in Sisters and came to Diamond Lake via La Pine. It departed from Diamond Lake this morning and heads west down Highway 138 East to Dorena Lake near Cottage Grove, via Canton Creek Road near Steamboat Creek and Sharps Creek Road.
Bicycling strength varied among the event's riders — the average age is about 49, according to participant Dave Scott of Beaverton — but they appeared as if they have been riding side-by-side or casually passing one another up for years. In fact, many of them have.
Standing out from the pack were the 22 riders of Team Crab, from Portland, who don homemade red cloth helmet covers sewn into the shape and visage of dungenness crabs, replete with legs and bug eyes. Some members of Team Crab were a little bummed that the route required too much bicycling and not enough evening entertainment.
"This year we haven't been dancing as much, but we did get some skinny dipping in," said Lili Kawaminami, 38, also known as "Dr. Doolittle" in Team Crab.
Kawaminami, participating in her 12th Cycle Oregon, said Team Crab is made up of nurses, doctors and lawyers, though they also count a professional clown among their numbers.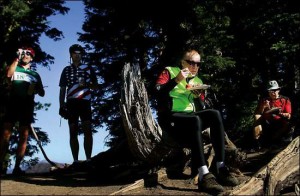 Portland resident H.H. Stuettger, second from right, enjoys lunch at the top of the North Junction viewing site overlooking Crater Lake on Tuesday. JON AUSTRIA / N-R staff photo
Stefan Jacobs, 32, a journalist from Berlin, Germany, said when he saw pictures of Crater Lake while considering Cycle Oregon, he knew he had to make the trip.
Jacobs, however, had ridden in Cycle Oregon before, covering it the previous two years as a freelance writer for two different German bicycling magazines.
"This year it's just holiday. I had run out of magazines that were interested in it because it's so far away from Germany," he said.
Cycle Oregon's stop at Diamond Lake is also beneficial to the fishery. It is matching $50,000 in funds raised by the Oregon Wildlife Heritage Foundation for trout stocking at the lake.
"We were quite pleasantly surprised that they were interested in fish stocking," said Mari Brick, a Diamond Lake biologist for the Roseburg district of the Oregon Department of Fish and Wildlife.
• You can reach reporter Adam Pearson at 957-4213 or by e-mail at apearson@newsreview.info.