Print Friendly
Bicyclers pedal and party their way through state
NewsReview
Roseburg, Oregon
September 10, 2007
By ADAM PEARSON
Cycle Oregon is a nearly 500-mile, weeklong bicycle trip that climbs and dips over the Cascades and back around again, but as strenuous as it may seem, some insist it's more like a party than an endurance test.
Lesa Potter, left, and Clivonne Corbett, both of Roseburg, are on their eighth consecutive Cycle Oregon ride together, Courtesy photo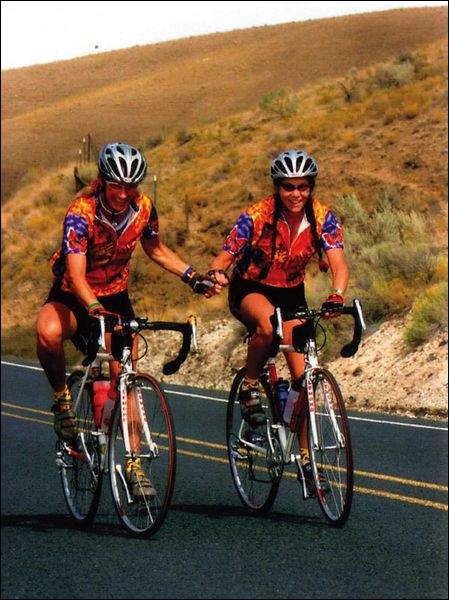 "We're on vacation, so we want it to be fun," said Lesa Potter, who arrives at Diamond Lake today from La Pine with her riding partner, Clivonne Corbett, during the second day of Cycle Oregon 2007.
"It's sort of like a traveling circus," Corbett said. "They entertain us and they carry our stuff."
"They make it really easy for us," Potter said. "We just have to ride to our next destination, take our showers and go to the beer and wine garden!"
"To be entertained!" Corbett said.
It's safe to assume Corbett, 57, and Potter, 48, both of Roseburg, are riding side-by-side by day and finishing each other's thoughts by evening. The pair are on their eighth consecutive Cycle Oregon ride together, sticking to one another like sisters or members of a national bicycle team, right down to their coordinated outfits and matching road bikes.
The two call themselves recreational riders who pedal about 3,000 miles a year, mainly in the summer, to stay fit and prepare for big events like Cycle Oregon.
"You have to ride quite a bit in the summer in order to get ready for Cycle Oregon to make it pleasurable," Potter said.
By night they dance to live music and visit old friends among the 2,000 or so participants, some of whom they only see during the summer road trip and who have traveled from as far as Alaska or Vermont for the event.
 If you go …
WHAT: Cycle Oregon 2007WHEN: From Sunday, Sept. 9 to Saturday, Sept. 15WHERE: From Sisters to La Pine, 64.5 miles; La Pine to Diamond Lake, 92.5 miles; the Crater Lake option, with a 25.8- or 59.8-mile loop back to Diamond Lake; Diamond Lake to Dorena Lake, 88 or 100 miles; Dorena Lake to Oakridge, 55.5 miles; Oakridge to Rainbow, 65 miles; Rainbow to Sisters, 43.3 miles.

Cycle Oregon rolls to Diamond Lake today, circles Crater Lake Tuesday, and heads to Dorena Lake Wednesday via Highway 138 East and Canton Creek and Sharps Creek roads.

The U.S. Forest Service encourages the public to use other traveling routes away from the event.
"There's these groups of people, Team Vagabond and the Crabs, and they wear these crab hats, and there's these old people, and they ride all day and they dance all night. It's crazy," Potter said.
Some participants are in the greatest of shape, Potter said, but she and Corbett never see them because they ride too fast and rise too early.
"The only pressure is to be out by 8 or 9, because the trucks will leave," Potter said.
"We've been known to almost be the last people out of camp," Corbett said with a laugh.
Camp can be a city of tents that occupy entire campgrounds, like Broken Arrow Campground at Diamond Lake, where spacing is minimal for its occupants.
Known to have called themselves the Silly Spin Sisters, or better known as Team Patchouli, Potter and Corbett now team themselves with a group of local riders who call themselves the North River Ramblers.
"People appreciate the patchouli," Potter said, pointing out the reason she and her partner earned the former nickname.
"Right. Because everybody stinks and you want to put that on, because it smells better than sweat," Corbett said with another laugh.
Potter and Corbett also participate in other riding events, like the Chico Wildflower, Blackberry Ramble and Tour de Fronds, to stay in shape. And when they're not riding together, they're usually not far from one another. They both work at the Veteran Affairs hospital in Roseburg, where Potter is a medical technician and Corbett is a nurse.
Friends for 17 years now, the two haven't always been road bikers. They started out mountain biking together, a natural progression from aerobicizing with Jane Fonda, Potter said.
"We're evolving, you see," Corbett said. "Now we're roadies."
Potter said they moved away from mountain biking because sometimes it can be too tough.
Corbett added the other main reason they enjoy Cycle Oregon: the support it gives local communities.
"It's a total moving circus," she said.
You can reach reporter Adam Pearson at 957-4213 or by e-mail at apearson@newsreview.info.