Print Friendly
A part of history: Annual Great Nordeen cross-country ski race links the past to the present
The Bulletin
Bend, Oregon
December 15, 2007
By KATIE BRAUNS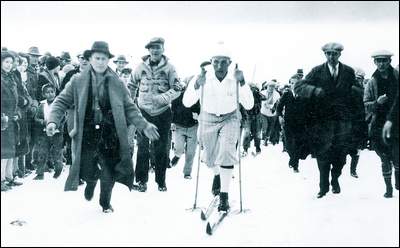 Photos courtesy of the Deschutes County Historical. Emil Nordeen, center, of Bend, twice won the 42-mile Fort Klamath-Crater Lake ski race, in 1929 and 1931.
With so much growth and change in Central Oregon these days, it is easy to forget about the region's rich history. But reminders like the Great Nordeen, an annual cross-country ski race staged each winter near Mount Bachelor, take us back to the past to remember the greats of yesteryear.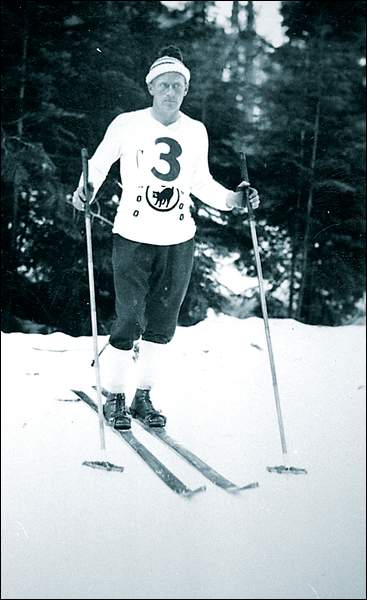 Photos courtesy of the Deschutes County Historical. An area nordic skiing race held in January bears the name of Emil Nordeen.
Emil Nordeen, a historical icon in the Bend cross-country skiing community, is perhaps best known for twice winning the 42-mile Fort Klamath-Crater Lake ski race, in 1929 and 1931.
That particular ski race is famous for the traveling trophy that was awarded to the winner each year. Nordeen received the impressive 38-inch-high cup, made of solid silver with gold trim, for keeps after his second victory at the Klamath, completing the 4,000-foot climb to Crater Lake in 5 hours, 35 minutes.
"I had heard of the great Crater Lake race … it had the huge prize with the big cup — the big trophy," says Ben Husaby, Great Nordeen race director and cross-country ski director for the Mt. Bachelor Sports Education Foundation.
"The best skiers from Scandinavia and the U.S. were there and Nordeen won. … It seemed fitting that we name the race after him."
In 2003, MBSEF held the first Great Nordeen race, which begins at Mt. Bachelor's Sunrise Lodge and traces through snowmobile trails and U.S. Forest Service roads to end at Wanoga Sno-park. Husaby says he wanted to create a race with a unique setting, and that retained history to give the event character.
"I wanted to hold a race that is not in the traditional places that we ski. … It's not traditional terrain, it's mostly a downhill race from point to point," says Husaby. "We figured it would be fitting to name it after Emil Nordeen."
Nordeen was a true outdoors-man, at one time crafting his own skis out of ponderosa pine two-by-fours from the old Shevlin-Hixon Lumber Company mill. He also designed neck-high bamboo poles with about 8-inch leather pole baskets at the ends.
Cross-country skiing was a way of life for Nordeen, who had grown up in Sweden. He moved to Bend in 1920, racking up a list of impressive skiing adventures and achievements throughout the years. In the 1920s and 1930s, skiing was enjoying a surge in popularity in the U.S. Those who could ski well were widely admired. In fact, about 3,500 spectators gathered to watch the 1931 Fort Klamath-Crater Lake race.
Along with other Central Oregon ski pioneers such as Nels (N.J.) Wulfsberg, Nels Skjersaa and Chris Kostol, Nordeen was a founder of Skyliners Ski Club. The local club would meet regularly for outings: hiking and mountaineering, in addition to skiing. Some of the more hearty members of the Skyliners would race in cross-country ski events.
It could be argued that Nordeen was the toughest of the group, with the nicknames "War Horse" and "Iron Man." The Skyliners' rivals were The Hoo Hoos of McCloud — near Mount Shasta in Northern California, the Eugene Obsidians, the Hood River Crag Rats, the Crater Lake Ski Club and the ski club from Fort Klamath. The clubs competed in a small race circuit throughout Oregon.
Husaby hopes that by honoring Nordeen's legacy in the Great Nordeen cross-country ski race, Central Oregon skiers will be inspired to compete.
Says Husaby: "Hopefully they will think: 'Maybe I can be part of Central Oregon skiing history.' "
The two Great Nordeen courses (of 36 and 15 kilometers) travel through Forest Service land that remains ungroomed until the day of the race and thereafter. The Forest Service has made special allowance for the annual race, permitting grooming and a high volume of skiers on the trails. In years past, some 300 skiers have competed in Great Nordeen races. This year, Husaby hopes for 500 participants.
"I thought it was important to have a race that was symbolic of skiing in Central Oregon," says Husaby. "We are skiing in all the forests that these guys (Skyliners) were skiing in."
Katie Brauns can be reached at 383-0393 or kbrauns@bendbulletin.com. Editor's note: Many of the historic details included in this article were gleaned from archived essays, articles from The Bulletin, and one article by Dorothy Kerns, a staff writer for a small newspaper publication that was called Snow Trails. All of these works are kept at the Deschutes County Historical Center in Bend.