Print Friendly
Travelers Find Solace in Sights, Scenery
Herald and News
Klamath Falls, Oregon
July 29, 2007
By STOVER E. HARGER III
From Crater Lake to the Lava Beds, visitors from all walks of life come to the Klamath Basin to enjoy the sights and scenery.
Who are these visitors and what are their stories? The Herald and News traveled to a few popular tourist spots to find out.
Crater Lake National Park
Forty years ago, Denmark resident Lise Schack lived in Eugene for two years. Her son Christian Schack was born in Oregon, and the family visited Crater Lake together.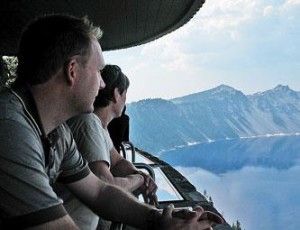 H&N photos by Stover E. Harger III
Christian Schack, left, and his mother Lise Schack, right, of Denmark take in the scenery of Crater Lake.
Lise was back this year, this time with her extended family: Daughters, children and grandchildren.
"It's very impressive, I think. It's wonderful," Lise said. "We have pictures of it at home, but when you see the pictures you don't believe it will be that pretty, but it is. It's even more impressive."
The family is taking a summer vacation, traveling through Oregon and California with Lise visiting spots she saw when she lived here.
Christian, now 40, traveled to Oregon from Denmark on his own after graduating high school. He flew in, visited his birthplace of Eugene and borrowed an old Volkswagen bus to drive to Crater Lake.
This time around, Christian said his children and wife were awed by the lake's size and beauty. The family sat together on the sunny day they visited and ate a picnic overlooking the lake.
Crater Lake and the surrounding area are so extraordinary that most everyone they talk to in Oregon tells them to visit, Lise said.
"If you are coming from the outside and you ask, 'What do you have to see in Oregon?' they always say, 'the coast and then Crater Lake,' " she said. "It's nice to be back."
Collier Memorial State Park: Off of Highway 97, 30 miles north of Klamath Falls.
There are many things Ellen Jones and Tom Jones love about Southern Oregon.
They love the trees, the meadows and the rivers. What they don't love are the mosquitoes.
Ellen and Tom of Willits, Calif., were staying at Collier Memorial State Park on their way to Sisters for the annual Outdoor Quilt Show. The couple wanted to stop at Collier Park because Tom had camped there 40 years ago with his children.
"It was beautiful and pristine," Tom said. "Then as it is now."
Their first night they were bombarded by mosquitoes, but they said they still love the area.
The couple is semi-retired and hopes to do more traveling in the future. They bought a camper two years ago and recently put their home on the market.
Fifty years ago, Ellen and Tom attended St. Helena High School in the Napa Valley.
They knew each other but never dated. Forty-five years later they found each other again, reconnected and married. Travel is a bond for them, Ellen said.
"That was one of the reasons we connected," Ellen said. "Our interest in travel and meeting people from all over. Really nice, friendly people."
Camping in Oregon is a much better experience camping in California, Tom said. Oregon campgrounds are generally well manicured and maintained, he said. At Collier Park, Tom likes the detail put into the campgrounds look — each campsite is raked and cleaned after each camping group.
They don't travel alone. With them is their dog Charlie, who lies on his side between their camping chairs. When a chipmunk ventures too close, Charlie leaps into action and scares it away.
They bring Charlie because he gets separation anxiety if left alone.
The threesome travel for the adventure and the beautiful scenery. On their trip from California to Oregon they passed some areas that were so beautiful to them that Tom said it looked like utopia.
Lake of the Woods
– Sunset Campground: Off Highway 140 about 35 miles from Klamath Falls
Cheryl Cameron and Nancy Alston-Linne were childhood friends who grew up in Klamath Falls. They met in second grade and graduated from Mazama High School 24 years ago.
They spent much of their childhood camping and fishing at the Lake of the Woods, but time eventually separated them. Cameron moved to Los Angeles and Alston-Linne to Camas, Wash.
The friends try and get together every few years. This year, when Cameron and her family were planning their summer vacation, so was Alston-Linne. They decided to meet halfway at the Sunset Campground at Lake of the Woods to relive fond memories.
"It's always nice to come and visit," Cameron said.
"It's also nice to show your kids what you did as a kid," Alston-Linne added.
Both Cameron and Alston-Linne said they left Klamath Falls after graduating because there weren't jobs for them in Klamath Falls.
Cameron and Alston-Linne joke about a lack of things to do in Klamath, but admit it is a good place grow up, and moving to larger cities was a large and often difficult change.
"You kind of feel stuck," Cameron said about living in a big city. "I think you don't quite feel 100 percent at home in either place (California and Washington). At least I know I don't."
To combat this feeling and get back to nature, Cameron and Alston-Linne decided to camp and show their young children what it's like to get out of the city and relax.
Their kids, many of whom have never been camping before are enjoying the experience, Alston-Linne said.
Coming back to the Lake of the Woods has let them relive many pleasant memories of camping, fishing and sitting around the campfire.
Rocky Point Resort: 28121 Rocky Point Road
Jim and Amanda Tanner take a trip about once a month.
Jim, a fisherman, is part of the E.C. Powell Fly Fishers club from Yuba City, Calif., and the group meets several times a year to fly fish and socialize.
This summer is the third year in a row they've stayed at the Rocky Point Resort on Upper Klamath Lake.
Jim and Amanda married about a year and a half ago after meeting 23 years earlier when he was a Sutter County data processor and she worked for the Sutter County school district.
"Twenty-three years later he married me and made my life miserable," Amanda said, joking.
"I'm still trying. I'm not there yet, but I'm working on it," Jim countered.
They both enjoy camping in the area because of the natural beauty. Amanda said she loves the pine trees, and Jim likes the peace and quiet.
"The fishing's good, and the company is primo. It doesn't get any better," he said looking at his wife.
Jim and his fly fishing group have been fishing together for a little under 20 years. In two days at the Rocky Point Resort, the group of 16 caught about 35 rainbow trout in the 5- to 15-pound class.
While the men in the group are out fishing during the day, the women socialize. When the fishermen come back, the group takes turns entertaining the others with meals. When it's Jim and Amanda's turn, they said they cook everyone spaghetti, prepared in their RV.
Jim and Amanda split their time living in Yuba City, where she owns a house, and Klamath Falls, where he does. When they camp, they stay anywhere that has a stream and a lake so the self-described "fisherman that won't quit" can fish.
When Jim comes back from the lake after a day of fishing, he and Amanda often sit down to play card games. She said she likes to beat him and send him back out fishing.
When she says this he lets out an affable grunt.
"I take out my frustrations on the fish," he joked.
Lava Beds National Monument
Nancy Barbic and Duncan Campbell from San Francisco have traveled to numerous national monuments and parks, but had never visited the Lava Beds National Monument near Tulelake — until now.
The couple, married since 2002, have been together for 15 years. They are both outdoor enthusiasts and stayed at the Lava Beds campgrounds.
Both Nancy and Duncan could spout off names of different caves, and they laugh when discussing one called the Mushpot Cave, which Nancy calls the "Disneyland of caves." The Mushpot is heavily roped off, lit and safe for all ages.
The Mushpot is not for them.
Their first full day at the monument, the couple undertook one of the most difficult caves, the "Hercules Leg and Juniper Caves."
In it they had to travel almost a mile underground, crawling on their hands and knees at times. The cave kept getting smaller and smaller, but they decided to venture on, eventually finding light again.
"We were pretty proud of ourselves after that," Nancy said.
Besides conquering Lava Beds caves, the couple relaxed at night and stargazed with binoculars. The sky was so clear they could see the four largest moons of Jupiter, the Galilean satellites.
Nancy has been sick for the last few years, and they said this would be there last vacation for a while.
They said they would recommend that Duncan's sister, who lives in Eureka, Calif., visit the area, because they think she would like it.
Love of outdoor recreation is something both Nancy and Duncan share.
"I can't imagine doing this with too many other people," Duncan said as the couple sat next to each other, reading books.
"It's important that you aren't dragging someone through something," Nancy added.
– BY Stover E. Harger III