Print Friendly
Crater Lake Chief Ranger to Retire: Dave Brennan has been on the job for 7 1/2 years
Herald and News
Klamath Falls, Oregon
December 3, 2007
By LEE JUILLERAT
H&N Regional Editor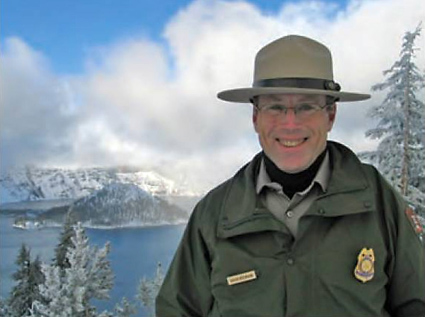 Dave Brennan, Crater Lake National Park's chief ranger the past 7-1/2 years, doesn't like the word, "retirement."
"We call it a renewal rather than a retirement because it's a chance to try something new," explains the 51-year-old Brennan, who will end his 27-year National Park Service Dec. 31.
Federal law enforcement staff and firefighters are allowed to retire after 20 years, and he plans to take advantage of that opportunity.
"For me and my wife, while I'm still young and healthy it gives me an opportunity to do different things," Brennan said. "It's very important for us to enjoy other parts of life. I'v seen some friends hang on. I'v come to admire those who retire earlier than later."
Keeping outside
He and his wife, Kate Kennedy, have a house in Ashland, where she teaches high school. They enjoy whitewater kayaking, skiing and bicycling – "all my outdoor activities." Brennan also hopes to "dabble in writing." He envisions finding "different ways to contribute," possibly through another career, volunteer service or membership in different organizations.
Brennan's Park Service career began in 1980 at Sequoia and Kings Canyon National Park in California. He has been at Crater Lake since June 2002, when he transferred from Grand Canyon National Park.
"When he came to Crater Lake he was prepared and that has really proven out," Superintendent Chuck Lundy said of Brennan. "Whenever we've had complex incidents Dave really never encountered any situations he couldn't manage in a professional way."
Major incidents
During his years Crater Lake, major incidents included the shooting death by a ranger of an out-of-control camper, the still unsuccessful search for Sammy Boehlke, who was 8 when he disappeared in October 2006 – "the largest search this park has ever seen" – and, that same year, the Bybee Complex fire, which park officials allowed to burn because it did not threaten any structures in or near the park.
Brennan's departure will occur at the same time Lundy retires.
"One of the beauties of the Park Service is we have a mobile enough work force that we can get an infusion of new people that helps keep us fresh and on our toes," Brennan said, referring to his and Lundy's retirements.
Of working at Crater Lake, Brennan said he remains awed by "the landscape, the snow. All the different varieties of snow – the same place is different every time you look at it. The sheer physical beauty of the park in all its moods."