Print Friendly
National Park Service Listening Session: Gatlinburg, Tennessee
Crater Lake Institute
March 14, 2007
Subject: Gatlinburg listening session
By OWEN HOFFMAN
I attended yesterday's NPS first "listening session" on the National Park Centennial Initiative in preparation for the 2016 NPS centennial. The meeting was held at the Mills Auditorium near the Gatlinburg Convention Center in Gatlinburg, TN. For those of you not familiar with the area, Gatlinburg is situated right outside the northern border of the Great Smoky Mountains National Park and is a major commercial tourist center and gateway community.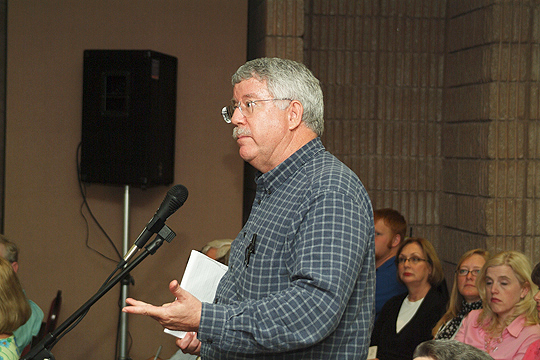 Owen Hoffman at the Gatlinburg Listening Session
Photo by Mike Kesselring
Despite the very short public notice for this meeting given in the local media, there were about 300 persons in attendance. However, approximately 40 were plain clothed superintendents from other parks who were attending because this "listening session" coincided with a special conference for Southeast regional park superintendents.  These high-level NPS employees mostly stood in the back of the room. The room was filled to capacity.
Most of the NPS uniformed staff who were in attendance were from the Great Smoky Mountains National Park, with the exception of Southeast Regional Director Patricia Hooks, who was in attendance and in uniform.
Secretary of the Interior Dirk Kempthorne and NPS Director Mary A. Bomar, along with GSMNP Superintendent Dale Ditmanson, facilitator Steve Whiteshell, Superintendent of San Antonio Mission on detail for this project, and a court reporter were at the front of the room. They assumed the role of official "listeners." Their opening comments were cordial and very brief.
Contrary to what I had been informed of prior to the meeting via our CNPSR listserve, the NPS "listening session" format was not one of multiple workstation break-out sessions. Instead, it resembled more of a town-hall meeting in which each pre-registered attendee desiring to make a statement was given 2 minutes to speak. Steve Whiteshell, enforced the time limits.
It was readily apparent to all attending that Director Bomar and Secretary Kempthorne made a dedicated effort to listen to each and every commentator. They often responded directly to the comments made. I was impressed with their demeanor and their exceptional demonstration of listening skills.
I was also impressed with the general underlying theme of most commentators, which was "Keep parks unimparied for the enjoyment of future generations." "Keep privatization and commercialization out of our parks, there's enough of that in Gatlinburg!" "Parks are primarily there for inspiration, contemplation, education and recreation and belong to all of the public." "The NPS needs to minimize conflicts between the primary objectives of preservation and protection of cultural and natural resources and while providing access to park visitors."
Three speakers were NPCA staffers representing the NPCA Southeast Region. These included Don Barger, NPCA regional representative, from Norris, TN, Emily Jones, and Gregg Kidd. Both Director Bomar and Secretary Kempthorne acknowledged the presence of NPCA at this meeting and emphasized that the NPS and NPCA had a tradition and a legacy of a close working partnership.