Print Friendly
He made movies in Brooklyn, over 100 years ago
The Bee
Sacramento, California
July 5, 2007
By RITA A. LEONARD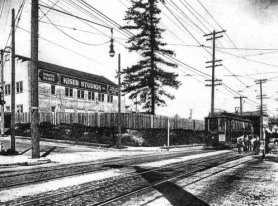 The impressive early photographic studio of Fred Kiser was located on S.E. Milwaukie Avenue, adjacent to where today's Sacred Heart Center stands. Note the Milwaukie Avenue trolley nearby. (Photo courtesy of the Oregon Historical Society and Sacred Heart Parish)

One hundred years ago, the building that now houses Brooklyn's "Western Toy Mfg. Co.", at 3833 S.E. Milwaukie Avenue, was the site of a fledgling photographic studio.
Brothers Fred and Oscar Kiser adopted photography as a hobby, but soon became professional by founding a business which catered to the national interest in pictures of the American West.
In 1902 they began producing photographs of the Columbia River Gorge, followed shortly by commissions for promotional photos of the newly-created Crater Lake National Park (1903), official photography for the 1904 Louisiana Purchase Exposition, and photos of the 1905 Lewis & Clark Centennial Exposition.
Oscar accidentally drowned in 1905, which led to the end of "Kiser Bros. Scenic Photography" — after which Fred Kiser established the "Kiser Photo Company". In this capacity, he hired staff to carry his heavy equipment into the woods, and provided official mountain-climbing photographs for most of the Mazamas' annual trips to northwest mountain peaks. The Oregon Historical Society has an extensive collection of photography attributed to Kiser.
Fred Kiser's photography helped promote national interest in the Crater Lake and Glacier National Parks. His scenic photos, hand-colored in oils and called "Artographs", were produced as postcards and albums, and were also displayed in shows from coast to coast. He was also commissioned to create promotional photos for the Southern Pacific and the Spokane, Portland, Seattle and Great Northern Railways.
Starting in 1922, Kiser dabbled briefly in the production of silent motion pictures. Some scenes were shot in eastern Oregon; others on a rented sandlot adjacent to Sacred Heart Church's Gregory Hall. A Wild West bank robbery movie, "Flames," helped launch the career of young Boris Karloff, who was cast as Blackie, the Bandit. The filming caused some excitement during a shoot at Sullivan's Gulch, when an intentionally-set background fire (designed to smoke out Blackie) got out of control and spread eastward up the cut now used by MAX along I-84.
Moshe Lenske has owned the business at 3833 S.E. Milwaukie for nearly 50 years. "My memories may not be quite accurate," he says, "But my impression is that Kiser's production work was done in Gregory Hall, while makeup and costuming occurred in our building. Rumor has it that a passage ran between the two buildings, but we never found evidence of one."
Kiser's Artographs of Montana's Glacier National Park area helped gain Congressional approval to establish that site as a National Park in 1910. Kiser also served as Photographic Director during World War I for the Emergency Fleet Corporation's Oregon Division.
In 1911, photographer Clarence Winter joined the company and, four years later, Fred sold him the studio, in order to concentrate on photo documentation of the new scenic Columbia River Highway.
Among other enterprises, Kiser established a photo concession at Multnomah Falls Lodge, and a major Show for the Panama-Pacific International Exposition in San Francisco. He reorganized his company in Sellwood around the time of WW I as "Kiser's Scenic Photo Studio" at what was then numbered as 773 Milwaukie Avenue. Here he recorded many shipbuilding images from the Portland Shipyards. Following WW I, he organized the Scenic America Co., using the popular slogan, "See America First."
In the 1920's, ever moving southward, Kiser operated a studio and photo lab at Crater Lake. Here he sold scenic Artographs, and provided one-day film developing for tourists; but after eight years, he passed the business on to the National Park Service and moved to California.
The early days of photography provided Oregon with many historic scenes involving the lumber and shipping industries, as well as early development of the City of Portland. Kiser's dream of bringing motion picture photography to the state has been revived in recent years.
Extensive movie memorabilia from films shot in Oregon can be seen on the walls of Brooklyn's "Yummy Garden" Chinese restaurant, 4729 S.E. Milwaukie Avenue, where the owners reflect on how astonished Kiser would be, to see the technological advances in a field he pioneered.