Print Friendly
Crater Lake Ski Patrol looking for members
Mail Tribune
Medford, Oregon
October 18, 2007
By BILL KETTLER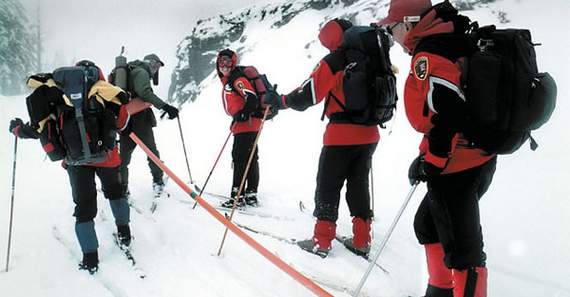 "There's tremendous moonlight skiing, with the stars glittering and the hoarfrost shimmering," says Eric Bishop, a Klamath Falls firefighter and member of the patrol for the past six seasons.If the idea of an evening ski tour at Crater Lake sounds appealing, you might want to think about joining the volunteer ski patrol.
Join the patrol
For more information about joining the Crater Lake Ski Patrol, e-mail Barb at craterbabs@hotmail.com or call Ellen at 482-1829.
Patrollers agree to spend three weekends at the park during the winter, marking trails, skiing, chatting with visitors, and just generally making sure things run smoothly at Oregon's only national park. In exchange, the National Park Service provides accommodations for patrol members, which makes an adventure like a moonlight visit to the rim a real possibility.
The ski patrol began in the early 1980s, when interest surged in cross-country skiing and Southern Oregon skiers realized they had one of the best sites in North America at their doorstep. As the patrol prepares to kick off its 25th season, leaders say strong skiing skills are less important for new members than a willingness to learn and a desire to serve.
"Last year we had one (new patroller) who had never skied before," says John Bellon of Klamath Falls. "He was a policeman and a former Marine drill sergeant, so he had medical skills and lots of other skills."
"We're there for people who have a need," says John Salinas of Grants Pass, an instructor at Rogue Community College and the patrol's current director. "The idea of service goes all the way from searching for people who are lost to the simplest thing of meeting somebody from Montana or New Orleans and telling them where they can buy a hot dog or where the bathroom is."
Patrollers must attend weekend-long medical training the first weekend in November and skills training the first weekend in December, along with three weekends on the trails between the second week in December and the third week in April. There are also brief training sessions every weekend to give patrollers the skills they need to handle emergency situations in a winter environment that can be life threatening for those who are unprepared.
Patrollers work in groups, so stronger skiers help less experienced skiers improve their technique.
Patrollers enjoy a camaraderie based on their shared love of skiing and the spectacular setting of a place where 36 inches of snow can fall in as many hours.
"It's a real wilderness experience," says Bellon, the parks director for Klamath Falls. "After a long day ski, coming back in the evening, there are times you know you're the only person in the world looking down at the lake."
"The first few years I fell more and more in love with the Crater every time I went up," says Beth Hoffman, an Ashland massage therapist who joined the patrol in 1983. "Love of the Crater, and love of skiing, and being able to go up there and serve in this capacity, I think is a gift."